The Foggie Gossip

August 2006 EDITION



and More
Saturday 12th August saw the annual Foggie Flower Show attracting a good crowd
of people and an excellent display of entries considering the recent inclement weather.
THE GLORIOUS 12th?
Well not quite but almost. The day started out wet and drizzly but by mid morning it cleared, dried up with the odd blink of sunshine and stayed that way until the outdoor events finished around 7.30pm. Though wet in the evening, the revellers hardly seemed to notice.



Final Preparations



Setting out Trophies



Judging takes place in the morning of the show and is a serious affair. Considering what are the best entries is often a difficult decision.

A colourful selection of exhibits.



A busy tasting session.


By hook or by crook, he'll pick a winner.


A wonderful display of gladioli.


Tasting the wines.

A British Giant and an Angora in the rabbit section.


One of the many show pigeons.

OFFICIAL OPENING OF SHOW
The Show was opened by Alex Salmond MP and after crowning Show Queen Ashley Clark, he presented trophies to those gaining most points and best exhibit prizes in the many sections and categories within the schedule.




Enjoying a joke during the opening ceremony are Show Queen Ashley Clark, Show Princess Natasha Birnie and
Attendant Alison Craib .


Picture by Andrew Lawson
For further images from the Foggie Show click here.



AUL' BROON APPEARS AT BOOK LAUNCH
The late Simon Brown came back to entertain and amuse a large crowd of invited guests on Saturday 29th July at the New Inn Hotel when the book of his poems was launched. Following amusing reminiscences and stories about Simon by the Rev Bob Jones and Simon's nephew Jim Brown, a recitation of Simon's famous poem about the Foggie Sewer was read by Jimmy Shaw. Jimmy was one of many local folk featured in the ode. A guest appearance by Aul' Broon himsel' by way of a video produced some years ago by Grampian TV, surprised many of the guests.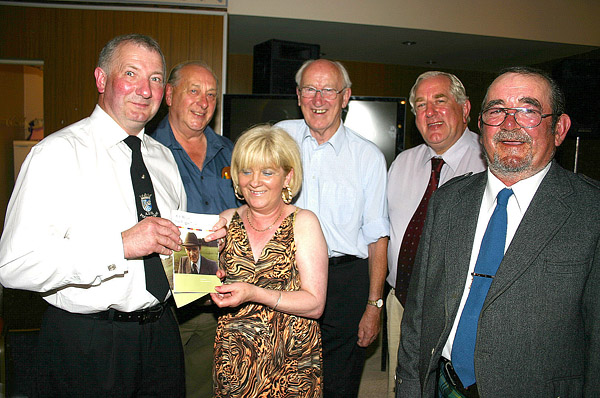 Picture courtesy of Andy Taylor

Above L to R: Donald Mckay (Community Association Chairman), Bob Peden (Secretary), Elsie Henderson (Simon's Daughter), Rev Bob Jones, Jim Brown (Simon's nephew) and Jimmy Shaw.

The book "Aul' Broon Fae Foggie Toon" (featured in last month's Gossip) is available in local shops and via this web site's Gift Shop.

REFURBISHED PHARMACY OFFICIAL OPENING
The newly refurbished Aberchirder Pharmacy, Newsagent and Post Office in Main Street was opened officially at a celebration party on 12th August. Staff and invited guests watched owner Sam Melrose's daughters Catherine & Lizzie cut the ribbon to mark the shop opening then enjoyed a barbeque and fun afternoon.



The girls are watched by staff members, left to right: Arlene Milne, Jillian Shearer, owner Sam Melrose, Sandra McCulloch, Maureen Calder & Daisy Cole.



A few of the guests watching the ceremony

Former Foggie Pharmacists Marjory Brown (left) and Alison McKenzie (centre) join Sam Melrose at the celebrations.


Member of staff, Show Queen Ashley even managed a quick visit to the BBQ and was bouncing on the kiddie's castle.


Catherine & Lizzie cut the party cake.

Find out more about Aberchirder Pharmacy and the services provided - click here.

ADVERTISEMENTS



Book your next Holiday ..... Instantly!

Challenge me to help you find your next holiday and escape the Winter Blues!

What's more ..... I'll do the hard work, save you time and find your perfect holiday at the price
that suits you.
You really don't need to spend time in a busy High Street Travel agent or make endless
phone calls .........
It's so easy - call me, Richard Waters
Your Personal Travel Agent

Call me: 01466 780973
E-mail me: richard.waters@tarsc.net

for the latest fantastic discounts

With a wealth of experience in the travel industry and a specialist in all Worldwide and European destinations, I'll use my expert knowledge to find the holiday that matches your exact requirements.

www.holidayholiday.co.uk/richardwaters - www.worldwidelatedeals.co.uk

Instant Holidays is part of Future Travel Ltd. a subsidiary of United Co-operatives Limited.
A surcharge of up to 2% will be applied to credit card transactions. Agents for ATOL protected tour operators.





The following Special Offers are available at your local Aberchirder Co-op Store
from 21st August until 10th September 2006 (whilst stocks last)


Robinson's Fruit Shoots, 4 pack
Buy 1 get 1 Free

Co-op Sunflower Bouquet
Only £4.99

Robinson's Original Squash 1 litre
Buy 1 get 1 Free

Nestle Aero (Millionaero) Pack Offer
All Varieties - Any 3 for 99p

Copyright © 2002 – ADCA Aberchirder, North East Scotland.