The Foggie Gossip

June 2007 Edition

FOGGIE GALA
The annual Foggie Gala on 3rd June was a great success. Despite the poor weather forecast, the day stayed dry though overcast for a lot of the time. The main event, children's 5-a-Side Football, attracted 47 teams and a good number of spectators and supporters turned out to cheer the players on. The stall holders also managed to boost the funds of their various community groups thanks to the generousity of those attending the gala.

Aberchirder & District Community Association wishes to thank all those involved, for their hard work, participation, sponsorship and generousity.




Community Groups' Stalls




Community Groups' Stalls




Stalls at McRobert Park




Children's Big Slide




Face Painting




Tiger Face




Fire Safety Display and Ambulance Service




Drawing the Raffle

Winners of the Gala Raffle were:
1st Prize £100 - Terri Lelej, Portknockie
2nd Prize £50 - M Duncan, Aberchirder
3rd Prize £25 - Danny Malcolm, Aberchirder


Top 5-a-Side Teams

WINNERS
RUNNERS-UP



Foggie Babes - 2 Goals




Turriff Primary Girls - 1 Goal




Primary 1,2 & 3 Deveron Boys - 2 Goals




Primary 1,2 & 3 Buckie - 0 Goals




Primary 4 & 5 Deveron Boys - 3 Goals




Primary 4 & 5 Huntly - 2 Goals




Primary 6 & 7 Buckie A - 1 Goal




Primary 6 & 7 Huntly - 0 Goals

CHAP DROPS THEM FOR CHARITY
Five members of Chap Construction took part in an abseiling event at the Emmerdale Extravaganza in Aberdeen on 9th June to raise money for charity.

One of the members, seen here, was Iain Ross of Causewayend Crescent, Aberchirder, who braved the 150 foot drop from the top of the tower at Aberdeen Exhibition Centre. Not bad for an old 'chappie'.

The team of five raised around £1300 for the various charities including The Anthony Nolan Trust and Leukaemia Research.

NURSERY FUN DAY

Aberchirder Nursery

Nurseries from the local area recently gathered at Duff House playing-field in Banff for a 'Nursery Fun Day'. Events took place in glorious sunshine and included games, races and a puppet show.

Groups from Macduff, Banff, Whitehills, Portsoy, Ordiquhill and Aberchirder attended the event which ended with a parade round the field followed by a picnic.

Sponsors who supported the day were:
Sangs with bottled water; Portsoy Ice Cream with tubs of ice-cream; Aberchirder Co-op with ribboned medals for all children; Tesco with a voucher.

Pictures Courtesy of Andy Taylor, Banff

THE CUTTING ROOM TO ACCOMMODATE CHIROPODIST
Angela Morrison who operates the Cutting Room Hair Salon at 63 Main Street, Aberchirder is having alterations carried out to accommodate another new business.

On or about 13th July, a new Chiropody / Podiatry business will open providing a service one day a week initially.

Steven Dowdeswell. BSc(Hons) Pod Med. M.Ch.S S.R.Ch. HPC Registered, will provide all Chiropody treatments e,g. nail care, verrucae, nail surgery etc and all Podiatry treatments, e.g. gait analysis, sports injuries, custom made insoles / orthotics, etc.

Present patients range from children, athletes and high risk elderly patients, to ladies going on holiday and wanting beautiful looking feet!

The consulting room will be open for appointments on Fridays only but alternative arrangements can usually be made if this is not suitable.

The service offers 10 min FREE foot health checks where an informal chat is offered. Also FREE foot health checks for all developing Dancers as they are registered with Dance UK, an organisation that works to promote the Healthier Dancer.


AUL' BROON NEW RELEASE
Auld Broon
Fae Foggie Toon

Following the huge success of the Aul' Broon Book, a new CD has been released by Ross Records this month, of Simon Brown relating his own famous poems.

The previously produced cassette tapes sold out and the new CD replicates the same tracks, with the addition of Simon's popular rendering of 'The Foggie Sewer'.

Simon Brown, 1908 - 1993, entertained local residents in the 1970s and 1980s by reciting his poems in the New Inn Hotel. In 1985 at the age of 77 Simon had an audio tape produced by Ross records.


Copies of this latest recording are available from Ross Records in Turriff for £9.99 or on-line via their website here at £10,99 including p&p.

SPORTS CLUB REVIVES BADMINTON IN FOGGIE
St Marnans Sports Club have just completed a highly successful pilot scheme to add a Badminton Club to their growing list of activities in the village. The session, open for Primary 7 to Secondary pupils, proved very successful. The Club plans to open up further sessions for a younger age group and an adults only section when they resume activities in September. They are also on the lookout for anyone interested in becoming a badminton coach.

For further information please call Adrian Inglis on 01466 780175. Pictured right are badminton members along with the winner Adele Henderson and runner-up Lee Inglis (front 2nd and 3rd left) of the club's summer singles competition .

MARNOCH CHURCH QUIZ - RESULTS
Marnoch Church members wish to thank all those who participated and donated to funds by purchasing the recent quiz sheets. The sum of £60 was raised. Quiz answers are shown below.

Anagrams of Towns and Villages

Sweet Tooth Quiz

1. Aberchirder
2. Pitlochry
3. Auchtertool
4. Inverkeithing
5. Falkirk
6. Montrose
7. Dunfermline
8. Stirling
9. Kirriemuir
10. Ladybank
11. Inverallochy
12. Kingsbarns
13. Strathrannoch
14. Tomintoul
15. Livingston
16. Gorebridge
17. Galashiels
18. Winchburgh
19. Inverurie
20. New Pitsilgo
21. Grantown on Spey
22. Kilconquher
23. Ythan Wells
24. Clackmannan
25. Lossiemouth
1. Wobbly Infants
2. Edible fasteners
3.Nine, ten ,eleven
4. Home for alcoholic teeth
5. Fallen Fruit
6.Clever Clogs
7. Italian Flowers maybe?
8. Dairy breakfast not with bacon
9. Eastern Promise
10 Valentine's favourite
11.The Red Planet
12. A night twinkler explodes
13. Naughty people need this
14. Sport of Princes
15. Complete precious metal
16. Where refined people live
17. Time for a party?
18. Carrier of Dairy Produce
19 This sweet caused a mutiny
20. Our Galaxy

- Jelly Babies
- Chocolate Buttons
- After Eights
- Wine Gums
- Pear drops
- Smarties
- Parma Violets
- Cream Egg
- Turkish Delight
- Lovehearts
- Mars
- Starburst
- Time out
- Polo
- All Gold
- Quality Street
- Celebrations
- Milk Tray
- Bounty
- Milk Way


Winner: Joan Chalmers
Winner: Ruth Graham

SANDY WRIGHT RETIRES FROM THE ELDERSHIP
Retiring after 46 years as an Elder of Marnoch Parish Church is Sandy Wright (81) who resides in Turriff. On behalf of the congregation. the Church's newest Elder Tracy Brook (second right) presented Sandy with a bible and Session Clerk Maureen Calder (left) handed over a painting of the church by Derek Gray and a voucher allowing Sandy to select his own picture frame.
Laura and Jessica Brook presented Sandy's wife Phyllis with a basket of flowers.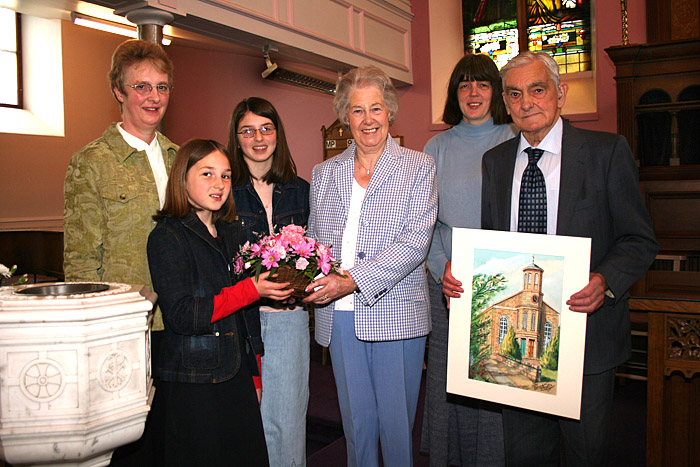 Sandy was a very well known and respected farmer in the Marnoch area. Prior to retiring in 1986, he farmed at the Home Farm of Auchintoul for 43 years. His wife Phyllis is equally well known and treasured by many in Aberchirder as a former primary school teacher in the village.

EVENTS
STRAWBERRY FAYRE
Friday 6th July
Marnoch Church Hall, Main Street
from 7.00pm
All Welcome

Summer Fun for Children at Aberchirder Library
The following events will be held in the Library
~ ~ ~ ~ ~ ~ ~ ~ ~ ~ ~ ~



+ Bring Your Own Teddy +

"Teddy Bear's Picnic"
11th July 10am - 10.45am

Story Telling and Rhyme Time for
Pre-School Age Group

Coffee will be served

Craft Morning for 5-8 Year Olds
1st August 10-12 noon

All Welcome

Story telling for 0-5 Year Olds
8th August - 10am -10.45am

Coffee will be served

ADVERTISEMENTS
Book your next Holiday ..... Instantly!

Challenge me to help you find your next holiday and find some summer sun!

What's more ..... I'll do the hard work, save you time and find your perfect holiday at the price
that suits you.
You really don't need to spend time in a busy High Street Travel agent or make endless
phone calls .........
It's so easy - call me, Richard Waters
Your Personal Travel Agent

Call me: 01466 780973
E-mail me: richard.waters@tarsc.net

for the latest fantastic discounts

With a wealth of experience in the travel industry and a specialist in all Worldwide and European destinations, I'll use my expert knowledge to find the holiday that matches your exact requirements.

www.holidayholiday.co.uk/richardwaters - www.worldwidelatedeals.co.uk

Instant Holidays is part of Future Travel Ltd. a subsidiary of United Co-operatives Limited.
A surcharge of up to 2% will be applied to credit card transactions. Agents for ATOL protected tour operators.

"Good with Food"

The following Special Offers are available at your local Aberchirder Co-op Store
until 8th July (whilst stocks last)

Golden Wonder Crisps
15 Bags for the Price of 10 - only £1.56
Coca Cola 6pk
Buy One Get One Free - £2.69
Carlsberg 8 x 440 ml
Special Purchase £5
Co-op Scottish Strawberries 454gm pack
Half Price £1.89
Co-op Fresh Double Cream 284ml
Half Price 33p
~ ~ ~ "Love Tennis" ~ ~ ~

Copyright © 2002 – ADCA Aberchirder, North East Scotland.