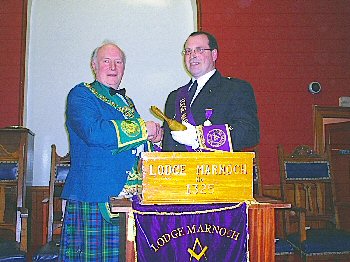 On 11th January 2005, the Installation took place of Bro. Mark Alexander McGregor as Right Worshipful Master of Lodge Marnoch. Office bearers of the Lodge for 2005 were also installed.
Seen here is Installing Master, Bro. Hugh Caithness Mackie Tawse (left), presenting the Gavel of Authority to Mark at the ceremony in New Marnoch Church hall.
The ceremony was accompanied by other Brethren from the Provincial Grand Lodge of Banffshire who formed the Installation Board.
Attending the ceremony above were from left to right:

Front: Bro. Michael Simpson (Past Master), Bro .Robert Morrison (Depute Provincial Grand Master - Banffshire), Bro. William Legge (Provincial Grand Master - Banffshire), Bro. Mark McGregor (Master of Lodge Marnoch), Bro. Mackie Tawse (Installing Master & Past Provincial Grand Master), Bro. James Davidson (Past Provincial Grand Master ), Bro. Malcolm Aldrick (Substitute Master)
Middle: Bro. William Legge Jnr (Senior Deacon), Bro. Derek Summers (Provincial Grand Secretary), Bro. Blair Prane (Past Master), Bro. Michael Chalmers (Senior Warden), Bro. Gerald McDonald (Past Master), Bro. David Lamont (Immediate Past Master), Bro. Robert Bremner (Almoner), Bro. Cecil Brodie (Bible Bearer), Bro. Tom Burnett Stuart (Treasurer), Bro. Steven McIntosh (Junior Deacon)
Back: Bro. Ron Munro, Bro. Leslie Chalmers (Provincial Grand Treasurer), Bro. Neil Mutch (Director of Ceremonies)