The Foggie Gossip

March 2006 EDITION

ABERCHIRDER BOWLING CLUB CENTENARY CELEBRATIONS BEGIN
Aberchirder Bowling Club is a hundred years old this year, and a centenary committee has organised a number of bowling and social events for the outdoor season, as well as a souvenir booklet and other items to mark the occasion.


Aberchirder Bowling and Tennis Club in 1906


The first mention of the Bowling Club was in the Banffshire Journal of 29 August 1905, which reported that, at the close of the regular Town Council meeting, conversation took place about taking steps to have a bowling club and tennis court. Within just ten months, the green and clubhouse were in place. The official opening of the green took place on 27 June 1906.

In advance of the official celebrations, which will take place throughout the 2006 outdoor season, the Local History Group marked the centenary at its February meeting. This was held in the Bowling Club, when about 50 members and guests saw a collection of nearly 200 photographs and other materials about the club. This formed the backdrop to talks on the origins and development of the Club.



Contact Kay Cairns (01466 780459), who is still keen to receive photographs, particularly from the 1970s and earlier, as the display will remain in the Bowling Club Hall until the end of the year, when it will be saved on DVD as an archive for the Club. You may email scanned photographs to the Centenary Committee via this web site. Images should be scanned at around 300dpi if possible and forwarded to abc@foggieloan.co.uk .

LOCAL ARTIST EXHIBITS MARITIME PAINTINGS
Local resident, Robert Andrew, is soon to exhibit a number of his ship paintings at exhibitions in Fraserburgh and Aberdeen. Robert, who was brought up in Foggie, trained in Aberdeen as an architect. His career took him abroad for some time but he returned to his roots a few years ago and took up painting as a hobby. Robert has already made a name for himself through the showing and display of his works at the Portsoy Boat Festival and in galleries in Banff and Aberdeen.



Picture courtesy of Andy Taylor


Robert's first exhibition is to be held in the Fraserburgh Lighthouse Museum from the end of March until late June. Following that, he will be exhibiting in the Aberdeen Maritime Museum towards the end of September until around late December.

Robert feels fishing is in his blood and his interest stems from the fact his grandfather was a Buckie fisherman. His boat, the Connage, a drifter, is pictured below. Working with gouache opaque paint, Robert has created such wonderful reality and atmosphere in his works. Many of his paintings are of old boats of the Moray Firth and he has used past photographs as the basis of his work. Having recently been given access to the Aberdeen Maritime Museum's photo archive, he has many more images to base his paintings on.



Examples of some of Robert's superb Paintings

NEW BABY
Ciaran Russell Angus

Parents Lynn & Brain Angus are happy to announce the arrival of their baby son Ciaran.

Ciaran was born on 9th February 2006 in Doctor Gray's Hospital, Elgin. He weighed in at 7lb 11.5 ozs.

Lynn (formerly of Aberchirder) is a Community Nurse and Brian is a Builder. They reside in Bleachfield Street, Huntly.

HEAVY SNOW BLANKETS THE NORTH-EAST
Northern Scotland received its heaviest snowfall for many years causing a number of roads to be blocked and schools to close. Scottish Ski Resorts claim they have had the best snow fall in 20 years. In the North-East, snowploughs battled for many days against frequent showers and drifting snow yet managed to keep most main routes open. Locally, whilst nothing to compare with 1984 when the road at Blacklaw was closed for a week due to drifting snow (over 5 metres deep at one point), the first few days of March left Aberchirder with over 35 cm of snow in places.

Many people chose to stay at home rather that risk travelling in treacherous conditions and local school children were overjoyed at getting 5 extra days off school.




Sledging at 'Hector's Park' on 6th March


DARTS CHAMPION SCORES A FIRST
Frankie Stevenson of Foggie became the first player in the history of the Turriff and District Darts League to hold all five singles trophies. His success completes the 2005-2006 season.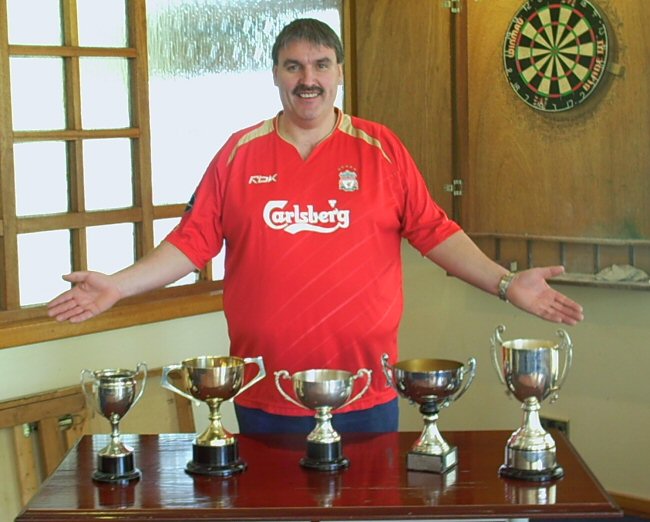 Trophies from left: Tennent's Cup, League Singles, Foggie Match-play, Skol Cup and Champion of Champions.

SMOKE-FREE SCOTLAND
From 6am on March 26, 2006, smoking will no longer be allowed in the majority of enclosed public places, including workplaces, to protect people from the harmful effects of passive smoking.




Failure to comply with the law will be a criminal offence. Individuals may be fined a fixed penalty of £50 for smoking in no-smoking premises. The manager or person in control of any no-smoking premises could be fined a fixed penalty of £200 for, amongst other things:
– allowing others to smoke in no-smoking premises

Further information on the new legislation can be found here http://www.clearingtheairscotland.com

You could be eligible for free nicotine replacement therapy from your local Pharmacy.
Click here for further details

FREE COMPETITION
'Spirit of Marnoch'
Photographic Competition


Enter the Aberchirder & District Community Association photographic competition.

It runs until March 2007 giving opportunities for images to be taken in all seasons.

It is open to all amateurs and has a separate section for under 16's.
Photographs can be of any subject taken within the Marnoch area.

Prints or digital images are eligible for entry.
Click the film below to open a PDF file containing the rules and application form for printing.

Don't have a PDF file reader?
Download the latest Adobe Reader free here.

Copyright © 2002 – ADCA Aberchirder, North East Scotland.