The Foggie Gossip

MAY 2005 EDITION

WEDDINGS
GIRLS NEXT DOOR BOTH TIE THE KNOT
SIMPSON / ROSS

Married at Houston House Hotel, Uphall on Saturday 30th April were Colin Simpson and Suzanne Ross, both of Edinburgh.

Colin is a Corporate Banker and Suzy is a Human Resources Officer.


Suzy was brought up in Foggie at 16 Causewayend Crescent.




ANGUS / MILNE

Married at Old Marnoch Church, Aberchirder on Saturday 7th May were Brian Angus and Lynn Milne both Huntly.

Lynn lived at 14 Causewayend Crescent, next door to Suzy and they went through school together.

Brian is a builder and Lynn is a Community Nurse.





LEADING FIREMAN RETIRES
Donald McKay retired from Grampian Fire and Rescue Service on 21st May after 28 years with the Brigade. He is seen here being handed a presentation axe on his last official meeting at the Station on 16th May, by Peter Murray, Area Commander.

Donald joined the Service on 1st March 1977 and on 1st January 1983, was promoted to Sub-Officer in charge of the Foggie Fire Station.

At his presentation, Donald reminisced on many of the call outs he had attended. Some of the stories were very amusing while others as you would expect, were sad. He stated that he was very sorry to be leaving the Service but at his age, the 400 metre sprint from his shop to the Fire Station was getting a little bit too much.




The new Sub-Officer is Brian Henderson seen 4th left along with the other Aberchirder fire-fighters.

MARNOCH ARTIST HOLDS EXHIBITION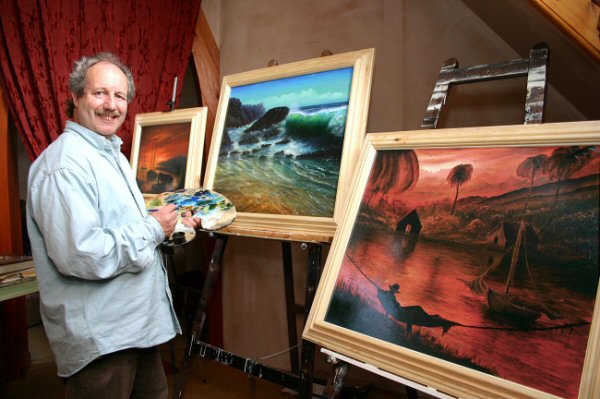 .Picture courtesy of Andy Taylor, Banff.

Nelson Margetson, The Forge, Myreside, Marnoch is holding an exhibition of his work in the the Gallery within Elgin Public Library from 28th May until 17th June. The exhibition, titled "Moonscapes", will display 30 to 40 oil paintings including landscapes and seascapes with a fantasy and surrealist approach in some of the examples of his work. All paintings will be available for sale.
You can find out more about Nelson and view further images of his paintings on his website http://www.theforgegallery.co.uk

ASTROTURF PROJECT RECEIVES BOOST
A cheque for £3,700 has been made to the Aberchirder Astroturf Project. The cash was raised at a recent "Abbamania" Dance in the Fife Lodge Hotel, Banff, including a raffle and auction.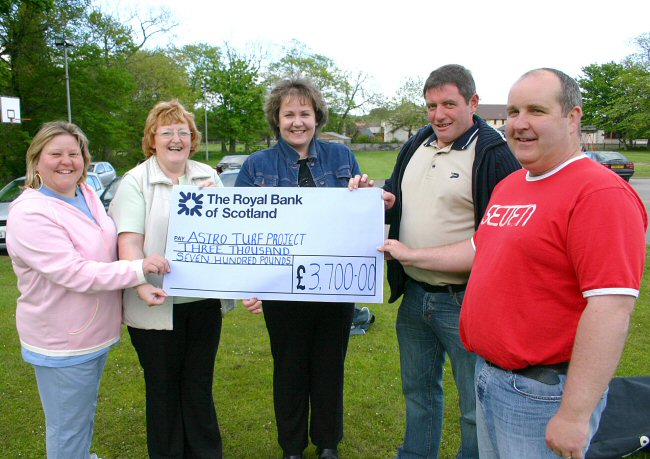 .Picture courtesy of Andy Taylor, Banff.

Handing over the cheque to project chairman Ian Esslemont, are above from left, Ria Esslemont, Wendy Gray, Sheila and William McKinnon . The organisers of the event would like to thank all businesses and individuals who generously donated prizes for the raffle and auction, and those who supported the dance.

DON'T MISS THE FOGGIE GALA
Note change to date of Kid's Disco.


Saturday 28th May

Primary 7 & Under

7.00 'till 9.30pm in the Church Hall

Sunday 5th June
at McRobert Park

5-A-Side Football
Stalls, Bouncy Castle, Garden Ornaments, Plants, Wheel of Fortune, Face Painting, Burgers, Teas, Ice Cream, Lemonade, Crisps, Raffle + More

#### FUN DAY OUT FOR ALL THE FAMILY ####

Copyright © 2002 – ADCA Aberchirder, North East Scotland.