The Foggie Gossip

October 2005 EDITION

NEW PIANO
Aberchirder & District Community Council last month donated a new piano for use by people in the town. The instrument will be kept in Marnoch Church Hall. A significant part of the contribution towards the cost was made by the Community Council's departing treasurer, Fiona Kennard and her husband Vernon of Netherdale Pianos. They have recently moved to live near Inverness.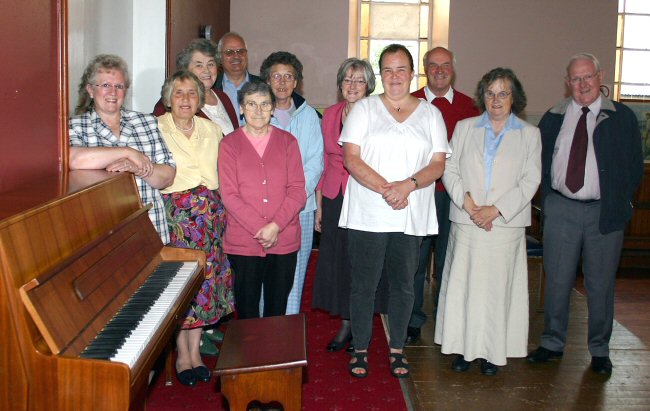 Picture courtesy of Andy Taylor, Banff.
Gathered round the piano are members of the Community Council and other local organisations.
From Left: Isabel Grant (Depute C.C. Chair), Meg Stewart, Alison Mackie, John Fittall (new C.C. Treasurer), Margaret Duncan, Helen Smith, Elizabeth Christie, Sandra Spackman, Bill Legge, Nancy McKidd (C.C.Chair), William Rennie.

RAISING MONEY FOR DIABETES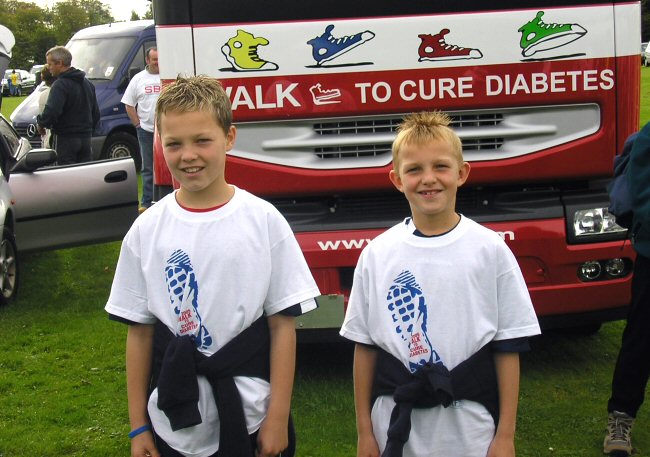 Seen here are brothers Lee (left) and Jay Inglis participating in a five mile sponsored walk raising funds to cure diabetes. The lads, along with family and 2500 others, took part in the event which was organised by JDRF and held in Hazelhead Park in Aberdeen on Sunday 18th September.
Lee was diagnosed with type one diabetes when he was seven years old and raised over £200 himself through contributions from family and friends. His family would like to thank all who those who kindly donated towards finding a cure for diabetes.

MARNOCH WALKOUT IN THE NEWS
In a remarkable coincidence, the famous walkout by the congregation at Old Marnoch Church in 1841 has cropped up twice this month.

First Lorraine Threadgold, who has been researching her Paterson ancestors of Milbethill and elsewhere in our area, sent us from South Australia, a copy of a letter from John Paterson to his brother Walter who had emigrated in 1838. Included in the letter is an account of the events at Marnoch - see transcript in section on Religion in the Virtual Museum. Also of interest are the postal markings, including an Aberchirder postmark of 8 June 1841, and the simple address – Mount Barker, South Australia – no postcodes in those days!





The walkout also featured on BBC2 TV on 10 October for around five minutes in episode 2 of the series 'The Battle For Britain's Soul'. Presenter Rev Peter Owen-Jones was filmed on location at both churches explaining how the Marnoch congregation refused to accept the landowners' choice of minister, and built New Marnoch Church, thereby setting an example which the whole of Scotland was to follow in 1843 when the Free Church was set up.

WEDDING
TURNER / MAYER



Married at St Marnan's Episcopal Church on Friday 14th October 2005, were Kevin Turner and Mary Mayer of Smith Crescent, Aberchirder.

Kevin and Mary, both originally from Stoke-on-Trent, have lived in Foggie for over a year now and have a one year old daughter Lucy-Mary. Kevin moved to Keith in his teens and attended Keith Grammar School from 1974-1976 before moving back to Stoke.

Mary is the Play-leader at St Marnan's Church Hall and Kevin works for a lighting company.

They wish to take this opportunity to thank the people of Aberchirder for making them feel very welcome.

BANK CLOSURE
Aberchirder's only bank is to finally close on Monday
14th November 2005.

It is one of 18 branches in North-East Scotland due to close by the end of 2005 and one of 60 set to close nationally within the next year. The parent company, National Australia Bank, announced that the closures were necessary as internet and telephone banking meant fewer customers were using their local branch services.

Following recent cuts in opening hours, the closure seemed inevitable but many residents and businesses will be severely inconvenienced by the loss of this service.


FOGGIE FRIENDLY
Aberchirder & District Friendly Society have announced the following changes in view of the forthcoming closure of the local branch of the Clydesdale Bank in Main Street. 'The Friendly' as it is commonly known, offers a financial savings scheme to local people whereby money is collected weekly and an annual pay-out made in time for Christmas.


STATEMENT OF CHANGES

Due to the closure of our local bank, changes to the collection will be made as from Monday 14th November (first collection date for 2005/2006)
Collections will now take place on Monday afternoons as night safe facilities will no longer be available and banking will have to be done through the Post Office.

For those who wish to continue as members but are unable to attend at this time due to work commitments and cannot make alternative arrangements, contact Brenda or Helen who will try to work out a solution.

In the interests of security, we have decided to collect on local holidays.
The only holiday dates for the coming year are:-

Friendly Quines

Brenda Williamson & Helen Lyon


26th December 2005
2nd January 2006
9th January 2006
1st May 2006
8th May
- Free Week
- No Collection
- Double Collection
- No Collection (May Day)
- Double Collection

This year's annual pay-out will be on Wednesday 9th November 2005 from 6.30pm - 7-15pm.
Please bring along collection cards.

The Friendly Quines, Helen & Brenda, say they will miss the usual banter when the holiday notices were displayed - "Nae anither holiday!" They hope you will continue to support the 'Friendly' and look forward to seeing you all.

Does your group or organisation have an event coming up soon or over Christmas?

Advertise it here in our next issue!

Contact our News Desk by email at
gossip@foggieloan.co.uk

or speak to any member of the Community Association.


You can also help us by contributing snippets of local news or telling us about future items of interest.

For forthcoming event advertisements, please advise us well in advance as the Foggie Gossip only appears every month or so.


Copyright © 2002 – ADCA Aberchirder, North East Scotland.