The Foggie Gossip

September 2004 Edition

Postcard from Florida
We received this e-postcard from Foggie expatriate Helen Selle who stays in Bradenton between Sarasota and Tampa, on the west coast of Florida. Her brother John Gardiner and partner Ann Christie from Foggie were to be holidaying with Helen this month but cancelled due to hurricane 'Frances' and the closure of airports.

Helen has been lucky so far during this storm season. Hurricane 'Charley' missed her home by about 50 miles and she also escaped the wrath of 'Frances'. With the 150 mph winds of hurricane 'Ivan' looming, Helen evacuated in case of wave surges which could rise to 12-15 feet.

In Helen's words, "Needless to say, this has been a very educational time. We all understand and respect hurricanes more now".

And in an e-mail received on the 16th September, Helen adds:
"Again we got lucky here. We are experiencing great storm surges Waves 12-20 feet. I would take pictures but the roads got flooded. The waves were so high at the beach on Anna Marie Island (the beach I usually go to, 10 minutes from where I live) The waves came up on the road and left so much sand they had to use heavy equipment to clear the road. The next high tide is expected at 2am (Thurs.) and the waves are going to be much larger. Again Carl is on his way but looks like it will go up the east coast. Quite a bit of excitement for a Foggie Quine".

St Marnans Youth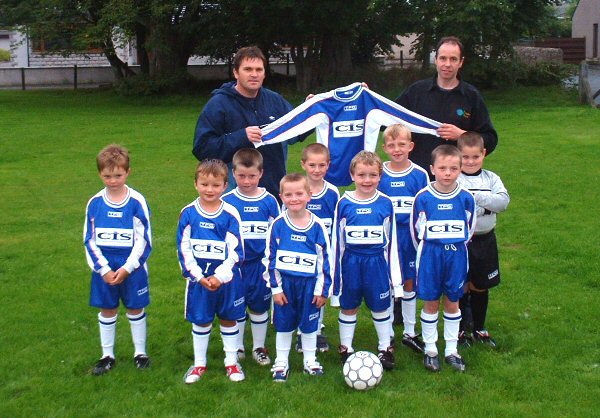 Some of the boys of St Marnans Youth football team proudly show off their new 'CIS' strip. 16 full strips were first prize in a recent Banffshire Journal competition which was won by coach Billy Forrest.
Pictured left to right are: Sean Chalmers, Steven Wilson, Macaully Morrice, Murray Inglis, Scott Duguid, Nathan Ross, Jay Inglis, Ross Adam, Stuart Flood with coaches Adrian Inglis and Billy Forrest.

Aberchirder Singer Scoops Kirriemuir Prize

Picture courtesy of Andy Taylor, Banff

Allan Smith won the overall prize in the Traditional Singing category at the 20th annual Kirriemuir Festival. The event was organised by the Traditional Music and Song Association of Scotland and Allan took home the Willie Scott Cup for his renditions of 'The Gipsy Laddies' and ' I Saw My Own Bonnie Lass'.

Allan's first singing success was at this years Keith Festival where he was awarded the William Gerrie Memorial Trophy as best local competitor and by finishing runner up in the overall traditional category.

Bowling Club Helps Fund Christmas Lights
The Community Association is extremely grateful to Aberchirder Bowling Club for donating money (collected in a bottle) towards the ongoing costs of providing Christmas lights in the town.

Pictured here are Bob Peden (Association Secretary), Elsie Henderson (Club Stewardess) and Stephen Forrest (Association Treasurer) emptying the contents of the bottle which came to the tremendous total of £204.00

The Christmas lights are enjoyed by the entire community and the Association thanks members and visitors of the Bowling Club for their generosity.

Russell Gordon Celebrates
What a lucky lad - surrounded by all these lovely ladies!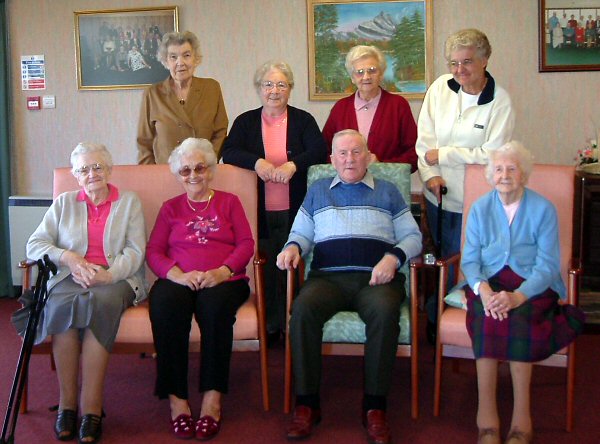 Friends gather in the lounge at Walker Court to celebrate Russell Gordon's 78th Birthday.
Back left to right: Helena Stevens, Kate Shand, Ella Gronkowski and Agnes Wilson
Front: Charlotte Greig, Lucille Tuddenham, Russell Gordon and Daisy Matthew.
Daisy, who was born in Foggie, celebrated her 94th birthday last month.

Copyright © 2002 – ADCA Aberchirder, North East Scotland.



.