The Foggie Gossip

November/December 2008 Edition

Best Wishes to All Our Readers Over the Festive Period and
for the New Year Ahead
From Aberchirder & District Community Association



RUGBY INTERNATIONAL
Scotland v Canada
Following on from the article in the Sept/Oct issue of the Gossip, showing the Primary Schools Rugby Tournament winners, the Foggie Primary 7 pupils are pictured below at the International match between Scotland and Canada at Pittodrie on 22nd November. This trip was their prize for winning the Banff area tournament. They hope to play a match against Turriff in the near future.


Seated early in the stadium anticipating an exciting match.


The teams get a breather during an infringement.


Foggie P7 fans showing their delight at being there. The wintry conditions did nothing to cool their enthusiasm.
It became even better when Scotland beat Canada 41 - 0.


PRIMARY SCHOOL CHRISTMAS FAYRE
A Christmas Fayre was held in the school on Friday 5th December. As part of a fashion show, children wore clothes that were given to the school by parents and villagers. The articles of clothing were later sold on at the Fayre. There were a variety of stalls selling children's clothing, men's and women's clothing, bric-a-brac and also a silent auction and Santa's grotto. Children got the opportunity to have their picture taken with Santa and of course there was the traditional cup of tea or coffee and mincemeat pies available at the end of the shopping sensation. The event raised a grand total of £565.85.


Fashion models
L to R: Kirsty Jones, Matthew Ogden, Abbie Esselemont, Iona Gregor, Natasha Morrison and Talitha Brown.



Lydia Moir & Talitha Brown show off the shoes.

Iona Gregor plays her bagpipes during tea and mincemeat pies.

Kieran Brooks, Connor Duncan and Ross Adam with matching hats
and Talitha Brown in foreground.

Paul Kaniowski and Michaela Stewart selling squares
on their secret map.

Sales techniques win a sale.

Santa and friends.


Below: Primary 7 pupils who, after the Fayre, had to write a report on the proceedings.


Back Row L-R: Hayleigh Wennington, Connor Duncan, Kirsty Jones, Iona Gregor, Sean Chalmers, Rebecca Cowie and Jay Inglis.
Middle Row L-R: Callum Whitehouse, Jordan Scott, Russell Scott, Lydia Moir, Ross Adam and Caitlin Durno.
Front Row L-R: Abbie Esslemont, Talitha Brown and Lisa MacDonald.



MARNOCH PARISH CHURCH FETE
Marnoch Parish Church held a Fete on 6th December to help raise funds towards refurbishment works at the Church Hall in Main Street, Aberchirder. Various organisations took part in the event and these included:

Church Guild
Pensioners
Thrift Shop
W.R.I.
Scouts
Day Club

In total, from stall profits and donations, £500 was raised for the Church Hall fund.

Left: Stallholders, Mary Smith and Elma Rennie attend customers.


CHRISTMAS LIGHTS
Thanks to efforts through fundraising and kind donations, the Community Association has again managed to replace some of the old Christmas lights with new light-weight versions. These were necessary to comply with Aberdeenshire Council's safety requirements. There are ongoing talks regarding the use of further lampposts in the village to display more lights, but these have yet to be declared structurally sound.

Counting the donations.


On the left is Jan Skyner (Community Association) and
Stephanie O'Byrne (Aberchirder Bowling Club).

L to R: Jayne Michie (Community Association) with
Sandra Beaton and Jennifer Imlach (Co-op shop).

Collection bottles/tins were placed in Aberchirder Bowling Club, the Co-op shop and the Commercial Hotel and the total donated was £199.39
Commercial Hotel £22.46 - Co-op £60.99 - Bowling Club £115.94



Festive lighting 2008
Very grateful thanks go all those involved in fund raising and to those volunteers who freely give their time and efforts to erecting, removing, storing and maintaining the festive lighting. In particular the following people deserve special mention:

Helpers: Stephen Forrest, David Chalmers, Willie Bremner, Duncan Robb & Dod Gray. Forkilfts: Bill Grant & Donald Mackie.
Storage: Alisdair Duncan. Repairs: Hugh Youngson


SANTA CLAUS VISITS FOGGIE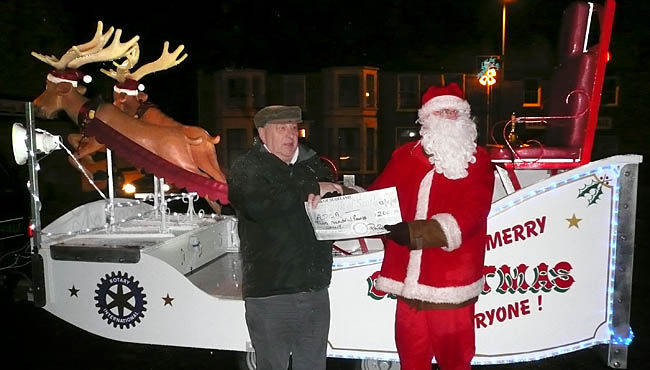 On Saturday 14 December, Santa paid a special visit to Aberchirder. He toured the village with his group of helpers, wishing everyone best wishes for Christmas and collecting donations for charity. From later reports, young children in the village were enchanted by his appearance.
Santa is seen above, presenting a cheque for £200, on behalf of Huntly Rotary Club, to Bob Peden, Chairman of Aberchirder & District Community Association. The money will go towards improvements to pathways around Cleanhill community woodland.
................ and again
Santa managed to squeeze in another visit to Foggie on his way home on 20th December. This time he set up a grotto in the Chemist's shop as he had a caught a bit of a chill with all the cold weather he endured on his travels. Lots of children came to visit him and he handed out pre-Christmas gifts to each one.


Santa with helpers
Snowman, Thomas Cameron & Rudolph, Catriona Bowie

Santa asking Lucy Forrest what she wants for Christmas.


Taylor & McKenzie Chalmers with their presents.

All smiles from Rhyleigh Wilson.
Donations received all go to Project Trust Fund Raising - Working with Children in South Africa.


v
ABERCHIRDER LIBRARY
Jigsaws

Vouchers




Our local Library is starting a collection of Jigsaws for people to borrow and return when they have finished with them. There will be no charge for this but a donation box will available and proceeds will go towards community projects.

If you have any jigsaws you no longer require, please hand them into the Library. Hopefully you will see another one you would like to try.





Scotland's People scheme.

The library is selling vouchers which enables those tracing their family trees to access information on the website www.scotlandspeople.gov.uk.
The website can be accessed from a library computer or from home.


View Job Vacancies

Attention all Jobseekers

A list of all Aberdeenshire Council job vacancies is updated and displayed in the Library each week. Also available to view are the job supplements from the Press & Journal, Turriff Advertiser and Banffshire Journal.


HOMECOMING SCOTLAND

Aberchirder & District Community Association together with Aberchirder & Marnoch Community Council,
support Homecoming Scotland 2009.





We want to hear from people with links to Aberchirder and the Marnoch area.

Find out more by visiting our
Homecoming Scotland page and find out how you can help connect with present
Foggieloaners.
Click Here


EVENTS
Marnoch Parish Church Festive Events

Children's Service
Marnoch Parish Church
21 December 2008

10.30am


Marnoch Parish Church
24th December 2008
Community Singing from 11.15pm
Watch Night Service 11.30pm - Midnight
Christmas Day Service


Marnoch Parish Church
25th December 2008 at 10.30am

Holy Communion


Marnoch Parish Church
28th December 2008 at 10.30am
Hogmanay Hoolie

Church Hall
31st December at 9pm
Bring your own soft drinks & nibbles

ADVERTISEMENTS
A Nose Job Diary

Written by One Who Nose!
Jan Garrett, Aberchirder

Price £5

All proceeds go to
Marie Curie Cancer Care.

~ ~ Get Your Copy Now ~ ~

Tel: 01466 780244
or
email: HouseGarrett@aol.com

Book your next Holiday ..... Instantly!

It's this time of year again. Time to book your next holiday.

What's more ..... I'll do the hard work, save you time and find your perfect holiday at the price
that suits you.
You really don't need to spend time in a busy High Street Travel agent or make endless
phone calls .........
It's so easy - call me, Richard Waters
Your Personal Travel Agent

Call me: 01466 780973
E-mail me: richard.waters@tarsc.net

for the latest fantastic discounts

With a wealth of experience in the travel industry and a specialist in all Worldwide and European destinations, I'll use my expert knowledge to find the holiday that matches your exact requirements.

www.holidayholiday.co.uk/richardwaters - www.worldwidelatedeals.co.uk

Instant Holidays is part of Future Travel Ltd. a subsidiary of United Co-operatives Limited.
A surcharge of up to 2% will be applied to credit card transactions. Agents for ATOL protected tour operators.


"Good with Food"

The following Special Offers are available at your local Aberchirder Co-op Store
until Sunday 4th January 2009 (whilst stocks last)

Too Good to Miss

Gran Tradicion Vintage Cava
£4.99

Aberlour 10 Year Old Single Malt
£14.99

6pk Coke / Diet Coke
£2.75 - Buy one get one Free

Walkers 28pk Crisps
Only £2.44

460g / 445g Mars Celebrations / Cadburys Roses / Cadburys Heroes / Nestle Quality Street
Only £2.49

~ ~ ~ Lots more bargains in-store ~ ~ ~
Paul, Jennifer and staff wish all customers a Merry Christmas and a Happy New Year,
and thank them for their valued custom during 2008.



Copyright © 2002 – ADCA Aberchirder, North East Scotland.

.