The Foggie Gossip

January 2008 Edition

PLAYGROUP PARTY
Aberchirder Playgroup ended last year with a Christmas party.

After the big feed, special guest Santa gave out presents to all the children.

If you want to find out more about the Aberchirder & Toddlers group
contact
Elaine Chalmers on 01466 781046

They meet in St Marnan's Episcopal Church Hall
Toddlers - Thurs 9.45 - 11.35am
Playgroup - Mon & Wed 9.15 - 11.15am

PILOT GAINS SPECIAL AWARD
Grant Linklater from Finnygaud, Aberchirder was recently presented with a prestigious award from the Guild of Air Pilots and Air Navigators (GAPAN)
Grant, (19) is a former pupil of Aberchirder Primary and the Gordon Schools Huntly, and has been a member of Huntly Air training Corp since the age of 13. He has had a keen interest in flying and aircrafts from an early age. In 2007 he applied for a Guild Private Pilots License Scholarship and, after successfully passing extensive assessments, interviews and practical aptitude tests in London, he was awarded the scholarship. Grant then completed his private pilots' license at the Highland Flying Club in Inverness.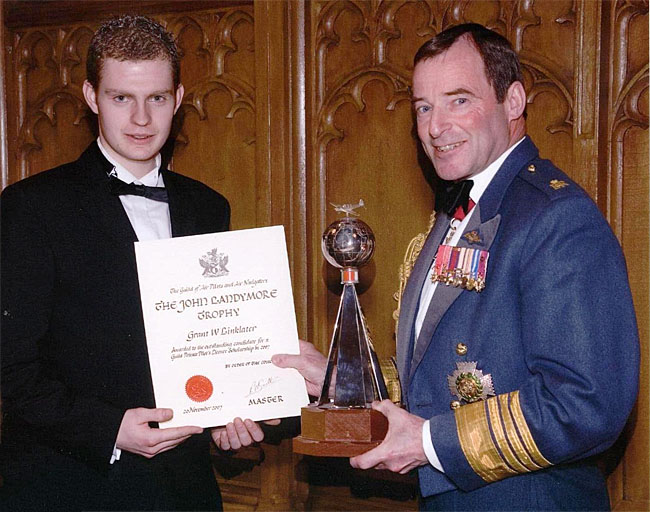 Grant was awarded The John Landymore Trophy for 2007 for being the outstanding candidate of the year for a Guild Private Pilots License scholarship by the Guild Scholarship Committee, in recognition of his excellent performance as a student during his flying training. He is seen here being presented with his trophy by the Chief of air staff Sir Glenn Torpy at the annual GAPAN Trophies and Awards Banquet at the Guildhall in the City of London in November 2007.
Grant is qualified for flying both solo and with passengers and he regularly visits RAF Kinloss where he instructs other cadets to a solo standard. Grant is currently studying Aero-Mechanical Engineering at Strathclyde University in Glasgow. He hopes to enter into a career in aviation either as a pilot, an engineer or perhaps join the RAF.

FOOD WASTE KERBSIDE COLLECTIONS
Aberdeenshire Council is rolling out a pilot scheme in the Banff area to test the success or otherwise of a food waste collection. About 5000 households in Banff, Macduff, Whitehills and Aberchirder will receive specific bins from the the week beginning 18th February and the weekly collections will commence the following week. Instructions will be given to residents as well as information on the collection days. It is hoped that this scheme will allow more space in existing wheelie bins which are emptied fortnightly. This year long trial will test another way of helping to reduce the amount of biodegradable waste sent to landfill. The food waste collected will be composted at Gray's Composting Services near Fordyce.


A typical kerbside bin.

Households, who already have a recycling black box and paper sack, will be issued with a kitchen caddy, biodegradable liner bags for the caddy and a small outdoor bin for kerbside collection.


To find out more, go along to the
'Food Waste Kerbside Collection Information Sessions' at

Aberchirder Library
on
Wed 6th Feb 2008 (3p.m. – 5p.m.)
&
Mon 11th Feb 2008 (5p.m. – 7.30pm.)


If you require further information
Contact Aberdeenshire Council Wasteline: 0845 600 3 900

PLANNING APPLICATION
Aberdeenshire Council is considering a planning application for 11 new dwellings on the site of MacLennans' transport yard on North Street.

The application by Grampian MacLennans Distribution Services Ltd., proposes 3 dwelling houses on the North Street frontage of the site, with 8 flats in 2/2 storey blocks on Park View. Vehicular access for parking of 19 cars will be provided from Park View.

Grampian MacLennans intend moving their present operations from North Street to Aberchirder Industrial Estate within the next month.





North Street




Park View.

Copies of the submitted plans and documents can viewed on Aberdeenshire Council's website.
You can view these in the 'Case Files' section at the bottom of their page by clicking here.
You are reminded that these documents are copyright and may not be used other than for the purposes stated on that page.

JUBILEE FOUNTAIN
The restoration of the Jubilee Fountain in The Square was completed this month when the finial was put in place at the top. The original was lost several years ago, and the replacement was made by Graham Watt, monumental sculptor, Banff, who had already carried out the main restoration works. See April 2007 Gossip


Fountain prior to restoration works.

Fountain after works completed.

EVENTS
MARNOCH CHURCH HALL

9th February
Church Coffee Morning + Bottle Stall & Sales Table

8th March
Woman's Guild Coffee Morning

15th March
Day Club Coffee Morning

ADVERTISEMENTS
You really do get more holiday for your money with local travel expert Richard Waters. Running his own business through the Instant Holidays division of Future Travel, Richard can tailor your holiday to suit your exact requirements thanks to the latest travel technology.

What's more, with the backing of The Co-operative Travel and with full protection from ABTA and ATOL,
you can book with complete peace of mind.
Call Richard on 01466 780973 for the latest special offers
or log-on
www.holidayholiday.co.uk/richardwaters



Remember Valentine's Day - Thursday 14th February

Terry's All Gold - 450g
£2.74 - Half Price

Marques De Monistrol Cava Rose' - 75cl
£4.99 - Half Price
A wide selection of Roses & Bouquets available for that
special person on Valentine's Day.

~ ~ ~ Lots more bargains in-store ~ ~ ~

Copyright © 2002 – ADCA Aberchirder, North East Scotland.

.