The Foggie Gossip
March 2011 Edition

NEWS FROM FOGGIE SCHOOL
PRIMARY SCHOOL PUPILS RECEIVE NEW BIBLES

A few years ago the all pupils at Aberchirder Primary School were presented with new bibles by the Rev. Paul Sittert. Pupils in each class were presented with bibles appropriate to their age group.

Nursery children starting every year are each presented with a bible and these pictures show new bibles being presented at the end of 2010 to some of the school's pupils.




Primary 7 with new bibles




Primary 3/4 show off their bibles




New pupils, Cain MacKenzie & Logan Wilson with their bibles.

FREE BREAKFAST

On 1st February 2011 the kitchen staff produced a buffet breakfast in the school from 8.40am - 9.00am. Parents and families were invited to attend and over 70 pupils, mums, dads, grannies and granddads took up the offer of a free meal to start the day.

On offer was porridge, wholemeal or white toast with butter and jam or honey with a wide variety of cereals with toppings which included yoghurt, dried fruits and fresh fruit. There was fresh fruit juice and milk for drinking. This project was part of the Health Promoting Schools Initiative to try and put across the message that breakfast is the most important meal of the day. No part of this event would have been possible if Joan Chalmers and her 'ladies' had not agreed to organise and co-ordinate the event. A number of school staff volunteered to come in early and help out. The event was a great success and it is hoped it will be repeated at some future date.


Everyone tucked in to the choices on offer.



L-R: Karen Taylor (auxiliary), Odette Strain (Banff Inclusion Team), Joan Chalmers (School Cook), Grace Beattie P1/2 Teacher and the school's Health Promoting Co-ordinator.
CHINESE NEW YEAR

Children from the Nursery celebrated Chinese New Year 2011 on 3rd February. Chinese New Year is the most important of the Chinese holidays, and is a time of feasting with the family, celebration, fireworks, and gift-giving. It is a 15-day holiday, beginning on the first day of a new moon and ending with the full moon on the day of the Lantern Festival. The Chinese light lanterns and attach wishes before letting them float up into the sky. Instead, the Nursery children attached their wishes to balloons and let them go in the playground on a cold and wintry day.


The Chinese calendar is based on the lunar year, so the date of Chinese New Year changes every year. The Chinese calendar follows a 12-year pattern with each year named after an animal. 2011 is the Year of the Rabbit.

SITE CLEARANCES
Two sites in Aberchirder have been subject to demolition orders, one due to the buildings thereon being beyond their viable life and the other where the buildings were in a dangerous state.

Five prefabricated (Dorran) Council houses bounding North Street, Market Street and Parkview were well past their original expected lifespan and after the occupants were re-housed, the site was cleared and it is hoped it will be redeveloped in the not too distant future.


Before: The Dorran houses looking from Parkview.


The cleared site looking towards Parkview

The longstanding timber lock-up garages owned by Aberdeenshire Council near the corner of Wellfield Terrace reached a dangerous state and the roofs were sagging, such that they were near to collapse. The garages still had earth floors and were only separated internally by wire netting. The site has been cleared and it is understood that the surface will be hardcored for use as a temporary car park.


Before: The 10 lock-ups prior to demolition.

The now cleared site awaiting treatment.

GUIDING ACHIEVEMENT
Mrs Helen Fowlie of the 1st Aberchirder Rainbow Unit was recently awarded her certificate and badge for 10 years service to Guiding. When presenting the award, Mrs Audrey McAngus, the Deveron Division Commissioner said "Well done Helen on achieving your 10 year service award. Your time and efforts are greatly appreciated". The 1st Aberchirder Brownie unit also wanted to acknowledge all the work that Helen has done with them over the years and, as part of their Friendship Badge work, they made a beautiful 'Well Done Helen' banner.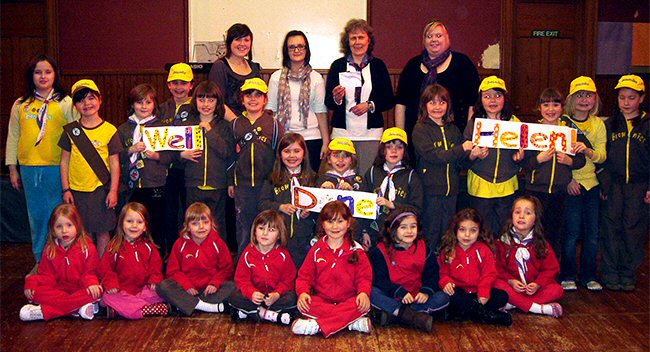 In the centre/rear is Mrs Helen Fowlie, on her far left is Young Leader Leanne Williamson and then Gayle Beaton, Assistant Rainbow leader and to her right is Young Leader Rachel Forrest.
The Aberchirder Rainbow, Brownie and Guide Units meet on a Wednesday evening in Aberchirder. New members and helpers are always welcome.
For more information or clarification, you can contact Sonia Stephen on this email or on 07762124343.
Thinking Day



Foggie Brownies working on Thinking Day & other crafts.


Rainbows showing the badges they earned
for World Thinking Day & Rainbow Roundabout

CLEANHILL TREE PLANTING
The severe winter and heavy snow falls delayed the continued tree planting on Cleanhill following the clearance of the Larch trees. The replacement planting of trees native to the area is now close to completion thanks to the help of various volunteer groups. On 19 March, members of Turriff ATC 1296 (Air Training Corps) undertook the planting of some 420 new trees. This was by way of a thank you for being premitted to use the hill for training and various adventure activities.

The group is seen above receiving a briefing and instructions from Community Association Member Jonny Barton who explained the benefits of the new trees to wildlife and the environment, prior to the planting taking place. Amongst the trees planted were Rowan, Hazel, Dogwood, Hawthorn, Gean and Cherry. Below some the ATC are pictured planting and staking the young trees.

BASKETBALL
St Marnans Sports Club introduced basketball to their list of activities just over 18 months ago. In that time they have had three players progress to Regional squad level (two last year and one this year) and one player has progressed to play in the National League this season, competing with teams from as far away as West Lothian, Dunfermline, Inverness and Glasgow. This season they entered the Grampian Superleague competition and won all nine of their matches. This was a fantastic feat considering they were playing clubs that have been in existence for many years.

On 27th March they travelled to Portlethen for their first ever one day tournament. The day started off well with their first two matches convincing wins. The team then ran out of steam in defence and lost the next match by just one basket. For their final match they came up against a very experienced Beacon team who dominated the game. That said, they were a very credible third in their first ever tournament, even more incredible when you consider they had one sub compared to the other teams that had five or six subs. Coach Jan Skyner said " I am very pleased with the way the team handled themselves. We are a very small squad with very little experience and to hold our own against some of these experienced clubs is just a fantastic testament to the hard work that goes into the squad. These teams have superb facilities, whilst we train for just an hour a week in the school hall which doesn't even have basketball court markings. How can I teach them the rules when they can't see the court markings? We are the only basketball team for miles around, the nearest being Fraserburgh or Inverurie. I am so proud of our achievements. Nine wins from nine matches in the league, three players through to Regional squad and one player through to National League. I am sure these figures will increase over the coming years with the young players we have coming through the ranks. It just goes to prove how important the proposed sports hall is. If we can achieve this in a tiny school hall, just think what we could achieve with a proper court. We would even be able to host home matches and our own tournament, instead of travelling all over Grampian!"

Pictured right:
Back row; Coach Jan Skyner, AJ Willox, Jo Middleton, Sam Woods, Donna Paterson and Assistant Coach Stacey Robertson.
Front row: Matty Skyner, Nathan Ross, Murray Inglis and Ryan Robertson.

Team members unable to attend the tournament: Zander Wright (Assistant Coach), Katie Allan and Corbyn Wilson.

A few new players have joined the basketball group and should soon be ready to play at competitive level. The team are pictured wearing borrowed strips as so far they do not have their own.


Following the 2011 AGM of Aberchirder & District Community Association on 24 March, the following appointments were made.

Executive positions:

Chair: Bob Peden
Vice Chair: Stephen Forrest
Secretary: Linda Farquhar
Treasurer: Davie Chalmers





Committee:
Jonny Barton (Natural Environment)
Les Chalmers
Donald Graham (Webmaster)
Cliff Gudgion
Lester Kean
Brian King (Gym Instructor)
Helen McNamee
Jayne Michie
Jan Skyner
Kevin Stearman

Gym Committee:
Davie Chalmers
Linda Farquhar
Donald Graham
Lester Kean
Jan Skyner

New Member Inductions: Brian King


Aberchirder Quality of Life & Fitness Centre

A number of new measures have been undertaken at the Aberchirder Quality of Life & Fitness Centre at the Community Pavilion at McRobert Park. This has been necessary for the security of the premises and the safety and wellbeing of members. Measures are now in place for monitoring use of the gym and pavilion, with members and approved users having been issued with new keys and identity cards.

A copy of the new application form and rules can be downloaded here (PDF format)


For further information regarding the Community Association or membership of the gym, please contact Linda Farquhar Tel: 01466 780512.

This year's Foggie Gala will take place on Sunday 5 June 2011 at McRobert Park.

A meeting will be held in Aberchirder Bowling Club on Thursday 5 May at 7.30pm for representatives of local groups or clubs wishing to hold sales stalls. For further details contact Linda Farquhar Tel: 01466 780512.

Further details of the day's events will appear on this website in due course.

Copyright © 2002 – ADCA Aberchirder, North East Scotland.