The Foggie Gossip
May 2010 Edition

COMMERCIAL HOTEL - 'BEST BAR NONE'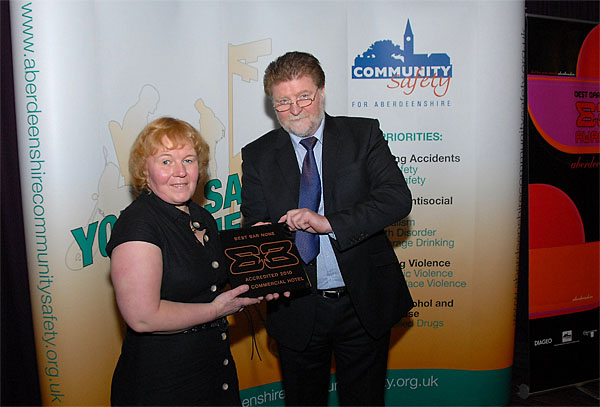 Pictured earlier this year receiving an award from Councillor Martin Kitts-Hayes, is Julie Bell, proprietor of the Commercial Hotel in Aberchirder. At a ceremony in Inverurie, eighteen licensed establishments in Aberdeenshire were presented with 'Best Bar None' awards. The nationwide scheme is supported by Community Safety in Aberdeenshire and the Scottish Business Crime Centre and is sponsored by Diageo. The aims of the scheme include combating alcohol related harm, disorder and crime and the awards are made to licensees who can demonstrate how responsibly they run their businesses.

VALENTINE DISCO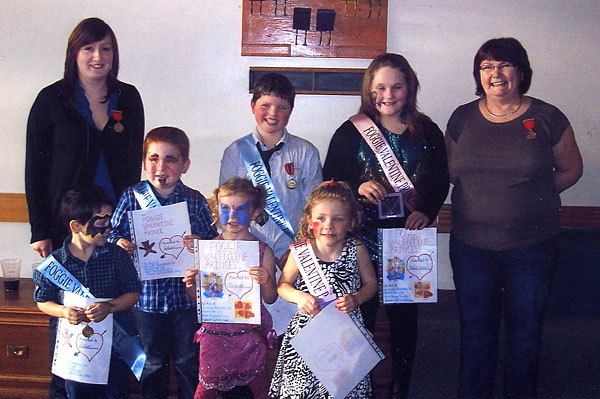 A Valentine's Day Kid's Disco was held in Aberchirder Bowling Club to raise money for Cancer Research - Relay for Life. The event organised by the local team 'Foxy Foggie Fillies' raised over £200 for the charity. This was only one of a number of events the team is holding to boost the funds of this charity.
A competition was held to find the best Princes and Princesses.
The winning Princes, judged by Marie Charles (left), were Robert Auchnie (9), Calum Calder (4) & Aiden Richardson (4 - Huntly).
Winning Princesses, judged by Gina Hendry (right), were Katie-Rose Allan,(10), Rhyleigh Wilson (4) & Stacci Milne (4).

LITTER PICKERS

Setting off along Taylor Drive

Aberchirder Primary School pupils undertook a 'Litter Pick' on Tuesday 27th April 2010.

The task was organised by teachers Gemma Bruce (P7) and Fiona Alexander (P4) to enable the school to reach the next level of Eco-schools Awards. For this they needed to get involved in a project that included the local community working along-side the school. Each class was allocated an area to 'litter pick' with parent helpers and people from the community joining in to assist the pupils with the clean-up of litter.

Everyone enjoyed getting out into the fresh air even though it was somewhat damp and the pupils were very interested in the various pieces of litter they found. The litter bags were all taken back to school and an additional uplift of rubbish was collected on the following day. 'Litter pickers', and plastic tabards were supplied by Aberdeenshire Council.

Left: Primary 7 pupils, Rory Ironside, Murray Inglis, Lynn Esslemont, Georgina Lampon, Donna Paterson, Chloe Auchnie with helper Helen Fowlie taking up the rear.



Primary 4-5 pupils planning their next move in the play park adjacent to North Street
L to R: Kirsten Nattress, Euan Duncan, Eithan Morrison, Stephanie Acutt, and Liam Mackintosh.


Cleaning up on Cleanhill, from Primary 7 are:
L to R: Scott Duguid, Dean Nicol, Patrick Wilson and Georgine Lampon.


On the area between the School and the Fire Station are, from P 2-3:
Facing camera: Finlay Brooks, Ciaran Whitehouse and Keifer Webster.



REPLANTING ON CLEANHILL
The harsh winter conditions with deep lying snow delayed the replanting programme for Cleanhill following the felling of larch trees last year. However, thanks to a small team of volunteers, a large amount of new trees have now been planted over much of the felled area. The completion of planting is due to take place towards the end of this year. Maintenance and management of the hill continues as a joint venture between Aberchirder & District Community Association and Aberdeenshire Council in consultation with other specialist agencies.

ABERCHIRDER SQUARE ENVIRONMENTAL ENHANCEMENT SCHEME
The commencement of enhancement works to The Square got going in late March after many delays caused by the wintry conditions. Contractors Highland Stoneways are working to the plan which was agreed after much public consultation and the project should be completed by mid June.


The concrete bus shelter is demolished to make way for improvement works.
Considered an eyesore by most, it will be missed by some but a new modern shelter will be put in its place.



Trenching for essential services

The outer pavement which will give safer passage for pedestrians

CELEBRATE THE UPGRADING OF ABERCHIRDER SQUARE
Come and join in the community celebrations commemorating the upgrading of The Square
on
Sunday 13 June 2010 from 1pm

The event will take place in
The Square on Sunday 13 June.

The official opening by Patricia Seligman, Deputy Lord Lieutenant of Banffshire, will take place at 2pm.

Stalls and entertainment will commence at 1pm


For further details, contact Linda Farquhar Tel: 01466 780512


Aberchirder Square c1960

Huntly Pipe Band ~ Skip 2 The Beat
Deveron River Brass Band
Teas Served in Marnoch Church Hall
Various Stalls ~ Grampian Fire & Rescue
The development could not have taken place without help from the following funding partners:


ADVERTISEMENT

"Good with Food"

The following Special Offers are available at your local Aberchirder Co-op Store
available until 25 May 2010 (whilst stocks last)

Outstanding Value on your Weekly Shopping


Walkers French Fries - 10 pack
£2.50 - Buy One Get One Free

Walkers Doritos/Dip 225g/326g
£1.79 - Buy One Get One Free

McVities Penguins - 9 pack
£1.45 - Buy One Get One Free

St Ivel Utterly Butterly 500g
£1.29 - Buy One Get One Free
Original Jammy Dodgers 150g
49p - Half Price
Kenco Rappor Coffee 100g
£1.16 - Half Price
~ ~ ~ Lots more offers in-store ~ ~ ~

Copyright © 2002 – ADCA Aberchirder, North East Scotland.