The Foggie Gossip

September/October 2008 Edition

RECENT ARRIVAL


6th August 2008

Milo Marnan Heggie-Milne was born at the Royal Infirmary, Edinburgh, weighing 8lb 6oz.

Parents Colin Heggie and Sarah Milne now reside in Edinburgh.

Colin, formerly of Main Street, Aberchirder, moved to Edinburgh after gaining a degree in Photography at the University of Sunderland. He now works as a freelance graphic designer primarily in the newspaper and magazine industry, and has just designed next year's Aberdeen F.C. annual and calendar.

Sarah Milne, is formerly of Whitehills and granddaughter of Mrs L. Anderson, Causewayend Crescent, Aberchirder. After graduating from Edinburgh University with a degree in English Language, Sarah is now is a freelance journalist and also works in public relations and marketing.


WEDDING

MORRISON / THAIN
Fiona Morrison and Gary Thain, both of Manderlea, Alvah, were married at Duff House, Banff, on 27th September 2008.

Fiona, originally from West Rothen, Cornhill, then Sheriffseat, Blacklaw, is a Community Support Worker. Gary has his own fencing contractor's business. The couple hope to build a new house at Culvie.

Catering at Duff House was by Jenny Durno, Aberchirder, and after their meal, the wedding party was transported in a decorated trailer, pulled by a tractor, to their evening reception which was held in the Banff Springs Hotel.


FOOTBALL WINNERS
Winners of Keith Gala, August 2008

FOGGIE BOYS

Primary 6 & 7 Football

Coach: Billy Forrest (rear)

Back Row: Murray Inglis, Patrick Donohue, Patrick Wilson, Nathan Ross, Alex Bowie

Front Row: Kieran Brooks, Jay Inglis, Ross Adam

FORK LUNCH
On Sunday 24th August, a fork lunch was held in Marnoch Church Hall and true to its name, there was no soup served. A superb buffet spread was laid out and everyone enjoyed a wonderful lunch with dessert.

Thanks go to all who worked to make the event a success and a great social occasion.

CHURCH ROOF REPAIR
During September, repairs were carried out to the roof of the bell tower on Marnoch Parish Church (1842) in Main Street, Aberchirder.
The original ogival lead roof has now been replaced with fibreglass which bears little difference visually.


Putting the finishing touches to the fibreglass roof.


View along Main Street from Church roof

View towards Causewayend Crescent from Church roof

REFURBISHED DROP-IN
The youth drop-in centre opened again in early September following refurbishment works. The centre, part of Marnoch Church Hall in Main Street, offers a safe and comfortable environment for young people to meet and have fun. A grant from Aberdeenshire Council has helped towards redecoration and new equipment including a table tennis table, new seating, a better music system and TV. The centre is hoping shortly to have improved kitchen facilities to provide teas, coffee and snacks. Adults are always present to offer advice or to help with any issues or concerns the teenagers may have.

The drop-in is open to 12-18 year olds on Friday evenings at 7.30pm


Back L to R: Sarah Watt, Michelle Inglis, Christen Gordon, James Steel, Mitchell Mair, with Brenda King and Ruth Cantrill
Front: Shannon Thom, Mark Willox, Gavin Thom, Brian Geddes


PHOTOGRAPHIC EXHIBITION
Banff photographer, Pamela Gronkowski's first public exhibition, held in Marnoch Church Hall on 21st September, was hailed a great success, both by Pamela and the many visitors who attended. Exhibits included local landscapes as well as many portraits and motorsport images from her brother Jordan's racing team. Wine and cheese was offered to visitors while they perused the images on display and chatted with Pamela.


Photographic display


Pamela (2nd left) receives a toast to her success by L to R: Friend Julie Neale,
Pamela's mother Ann, and aunt Pamela Scott.

Pamela has a stall at Macduff Farmer's Market and samples of her photography can be viewed at
www.pgronkowski-photography.co.uk

The Minister of Marnoch Church wishes to make it known that the church hall will happily be made available to any local artist, photographer, craftsperson or similar who wishes to exhibit their talents.
For further details, contact the Rev Paul van Sittert on 01466 781143

NEW UNDERTAKING
Ian Esslemont aged 38 years, of Main Street, Aberchirder, has now taken over the long established business of Eric P Massie Funeral Services in Huntly. He started trading on October 1st 2008 as Ian Esslemont Funeral Services.

Ian operated his own businesses for 14 years in Aberchirder, both as an undertaker and owner of a taxi business, then 3 years ago he went to work for Eric P Massie in Inverurie and Huntly. He is looking forward to providing a service in Huntly and surrounding area, and hopes to continue being part of the Aberchirder community. Ian is married with two children.


Chapel & Rest Rooms

Chapel

Ian Esslemont

RUGBY TOURNAMENT WINNERS
Over 200 primary school pupils from Aberchirder, Banff, Macduff, Whitehills, Portsoy, Bracoden and Fordyce, attended a rugby coaching and seven-a-side tourney at Duff House playing fields under the guidance of two Scottish rugby stars, Mike Adamson and Colin Shaw of Glasgow Wanderers.
Winners of the tournament was the Aberchirder Primary team, having beaten a squad from Macduff in the final. Their prize is a trip to see Scotland play Canada in Aberdeen on November 22.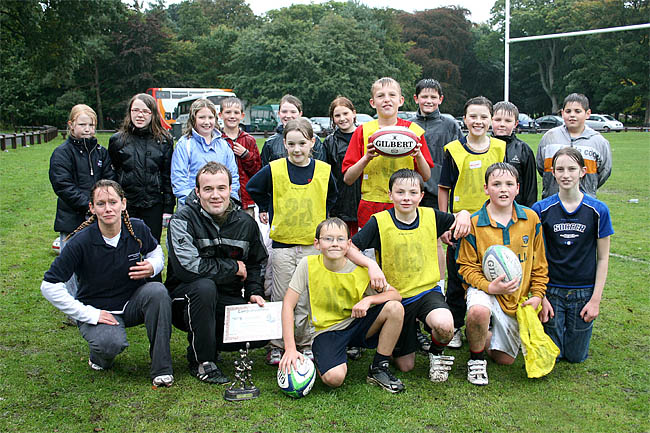 Picture courtesy of Andy Taylor, Banff
Pictured in front are the Aberchirder squad with their supporters behind. On left is Active Schools Co-ordinator Susan Mackintosh who organised the event, and second left Banff Rugby Club Development Officer Stewart Ross (formerly of Aberchirder) who is leaving to work in the Angus area. He was presented with a statuette and certificate.

BOOKS ON LEGS
Difficulty Getting to the Library?

Aberchirder Library is starting a "Books on Legs" service for the elderly and housebound in the village.

Staff will arrange to deliver and collect any library books from folks' homes in the village if they are unable to get to the library for whatever reason - e.g. illness, bad weather etc. There will be no charge for this service.

Anyone living outside the village can contact the library for details of the mobile service routes and timetables.

To request this service, 'phone the library on 780607 during opening hours, or leave a message on the answerphone with your name and number and staff will get back to you A.S.A.P.


Aberchirder and Marnoch Community Council
Notice of Election
Nominations are sought for membership of the Aberchirder and Marnoch Community Council. Nomination papers are available from Aberchirder Library and Aberchirder Post Office and must be returned to Cllr I Gray at 'Quinelan', 6 Marine Terrace, Portsoy, AB45 2PN between 2nd and 16th November.
In the event that the number of candidates exceeds the number of places on the Community Council, elections will be held on a date and at a place to be further advertised.
(signed) I Gray, Returning Officer

EVENTS




St Marnans Sports Club

A BLAST FROM THE PAST!

Appearing at Aberchirder Bowling Club
on Friday 24th October

'CHRISTIAN'

8.30 'till late - Tickets £10 Available from:
Willie McKinnon (780431), Scott Chalmers (781175) or Duncan Henderson (780697)

A.B.C. Members & Guests Welcome



Charity Events in Aid of Dr Gray's Endowment Fund.

Organised by Jim Murray of the New Inn Aberchirder, the following events are taking place to raise money for the
hospital's cardiology and stroke units.

SPONSORED CYCLE RIDE

Braemar to New Inn Aberchirder - approx 70 miles
on 16th October 2008

Riders are - Jim Wood, John Mackie, Kyle Wilson, Mark Willox & David Geddes


Main Sponsors are: The New Inn Hotel, Aberchirder & Garioch Plant Hire (Mike McLennan)
Others include: Bon-Accord Glass, Quality Napkins, Aberchirder Pharmacy, Donald McKay Butcher, Aberchirder Co-op, Bremners of Foggie.

Thanks go to all those who sponsored, donated and helped with the event.
ALSO FOR THE SAME CHARITY

STOVIE DANCE

Featuring Paula MacAskill

at the New Inn, Aberchirder on 25th October 2008
8pm for 8.30pm

Tickets £10

Contact New Inn Hotel 01466 780633


CHRISTMAS TABLEWARE ON SHOW


Christmas Candle


Quality Napkins, 53 Main Street, Aberchirder,
invites you to the preview of their range of Christmas Tableware and Accessories
on
Thursday 13th November 2008
between 9am and 9pm

Refreshments will be available during the course of the day.

15 minute napkin demonstrations at 11am, 2pm & 4pm


Visit our website at www.qualitynapkins.co.uk
or
call us on 01466 780099

ACTIVITIES
St Marnans Sports Club

Weekly Activities Timetable ( During School Term) to June 2009

| | | | | |
| --- | --- | --- | --- | --- |
| Day | Times | Activity | Ages | Fee |
| Monday | 4.30-6pm | Netball/Badminton | Pri 4,5,6,7 | £1.50 |
| | 6.15-7pm | Football | Nursery | £1.00 |
| | 7-8 pm | Football | Pri 1,2,3 Boys | £1.50 |
| | 8-9 pm | Netball | Secondary/Adult | £2.00 |
| | | | | |
| Tuesday | 6-7 pm | Football | Pri 4,5 Boys | £1.50 |
| | 7-8 pm | Football | Pri 6,7 Boys | £1.50 |
| | 8-9 pm | Football Tennis | Secondary/Adult | £2.00 |
| | | | | |
| Thursday | 6-7 pm | Football | Pri 1,2,3 Girls | £1.50 |
| | 7-8 pm | Football | Pri 4,5,6,7 Girls | £1.50 |
| | 8-9 pm | Badminton | Secondary/Adult | £2.00 |
Please note that all badminton, netball and football tennis sessions will not begin until week of return from October holiday.
For further information, contact Adrian Inglis on 01466 780175

ADVERTISEMENTS
Promote Aberchirder & District and our Website

Clear window clings with white lettering showing
www.foggieloan.co.uk

These clings, measuring 350mm x 50mm, are non-sticky and can be placed
inside car windows or any other glazing.

Please order them to promote our area.

Available from Linda Farquhar, Tel 01466 780512
or
contact us at info@foggieloan.co.uk

Donation of £1 each Welcomed

Does your group or organisation have an event coming up or are you looking for new members?

Advertise here in future issues.

Contact our News Desk by email at
gossip@foggieloan.co.uk

or speak to any member of the Community Association.


You can also help us by contributing snippets of local news or telling us about future items of interest.

For forthcoming event advertisements, please advise us well in advance as the Foggie Gossip only appears every month or two.

Copyright © 2002 – ADCA Aberchirder, North East Scotland.

.