The Foggie Gossip
September / October 2009 Edition





RIVER DEVERON IN FLOOD
The first few days of September brought severe flooding to many parts of Aberdeenshire and Moray. The following images of the swollen River Deveron were taken on 4 September after two days of almost continuous very heavy rain. The 'after' pictures were taken one week later from approximately the same locations. Reports were heard of the River Deveron having risen 5 metres in some places.

Fishing hut in the middle of the river

After - Fishing hut can be seen at the top of the bank (centre of picture)


Waves of floodwater surge against the hut




It seemed inevitable that the hut would be washed away ....




After - It survived!




The level of the water during flooding




After - The river returns to normal and a couple fish from the bank




Downriver from the Bridge of Marnoch




At the Bridge of Marnoch




Looking up-river next to Marnoch Cemetery




After - The river at normal levels




Flood levels immediately downstream of Marnoch Cemetery




After - many bales were seen floating downriver




The river bank at Marnoch Cemetery

After - Clear water runs again

BASKETBALL
Basketball, which was invented in 1891, continues to be the most popular indoor sport in the world. St Marnans Sports Club in Aberchirder now organize basketball sessions for young persons in the schools' P7 - S4 age range on Monday evenings from 8 - 9pm. During a discussion with Grampian's Basketball Development Officer, local Coach Jan Skyner heard about a professional team visiting Aberdeen. A match was to take place between 'Glasgow Rocks', Scotland's only professional squad, and an elite group of players picked from teams in the Grampian League.

Jan decided to take the Foggie players along to see the match at Aberdeen Sports Village on 15th September so they could see and learn from watching the game played by top level sportsmen. Most of the youngsters had never see a professional match or even adults competing in the game.


The group of spectators from Foggie.
Back L-R: Stacey Robertson, Matty Skyner, Jay Inglis, Nathan Ross, Donna Paterson, Keiran Brooks, Jan Skyner (coach).
Front L-R: Elaine Robertson, Ryan Robertson, Joe Middleton, Adam Willox, Murray Inglis, Alex Bowie, Steve Bullock.
Also present, Hannah Skyner who took pictures.



Players in red - Grampian Elite team


Players in blue - Glasgow Rocks.


Some of the Foggie group pose with players.



Adam Willox pictured with a bag of goodies after winning the half time shooting competition.

For further details of Basketball training and other sporting events, see 'Activities' below.

GRADUATION

Stuart Gray, 19, from Aberchirder has gained an advanced certificate in brickwork at Moray College. Stuart is now a final year apprentice for Neil Murray Housebuilders.


SCHOOL PUPILS PLANT DAFFODILS ON CLEANHILL
Thanks to the generosity of Huntly Rotary Club, Aberchirder Community Association received a gift of around 700 daffodil bulbs. It was decided to plant these at the viewpoint at the south-western end of Cleanhill to add some springtime colour to an area of rough grassland.

The staff of Aberchirder Primary School are always interested in getting pupils involved in community projects and so their assistance was sought in carrying out the work of planting after preparatory work had been undertaken by Aberdeenshire Council. On 6 October, twenty four pupils from P4, 5 & 7 planted all the bulbs in an amazing 15 minutes and did so with great enthusiasm and efficiency.


Pupils receive instructions on how to plant the bulbs


Bulbs were planted in groups of 5 in pre-dug holes


After a talk on plant and tree reproduction by Jonny Barton, the Cleanhill Warden, the pupils posed for a group photograph.


NEW ARRIVAL


Isla Rose Mutch was born on 8th October 2009 in Stratford, New Zealand, weighing 8lbs 1oz. Proud parents Gavin and Pip are seen here with Isla and 2 year old Ashleigh.

Gavin Mutch, formerly of Woodside, Mosscoral, Forgue, is a sheep shearer and his wife Pip of Stratford, New Zealand. is an accomplished endurance horserider.





EARLY LEARNING IN CRAFTWORK
Thanks to the help and assistance of Sandra Runcie (left), local children from Nursery to P3 ages were able to participate in handcrafting various articles of seasonal fun and interest. The session was held in Aberchirder Library on 14 October and amongst the items created by the children were: spooky hands (latex gloves filled with popcorn then painted with nail-varnish), Halloween cards, Santa boxes and Christmas decorations.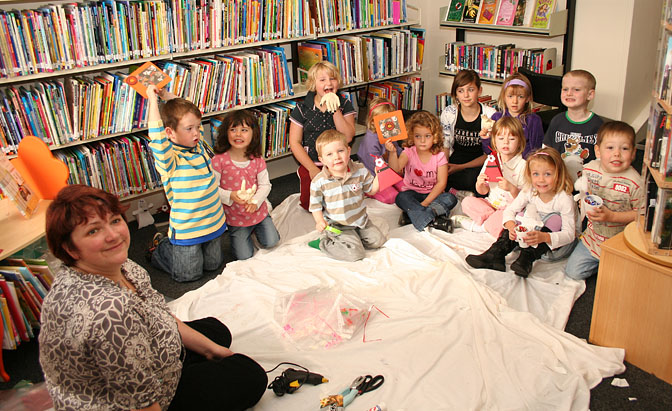 Cleanhill Wood Replanting And Maintenance Update
People visiting Aberchirder's community woodland at Cleanhill have noticed a big change as a result of the felling of its 1.7 hectare larch plantation last April. Now plans are in hand to replant the area as agreed in the felling licence issued by the Forestry Commission.
The Community Association's Tree Warden Jonny Barton explained: "Planting of the felled area where the larch plantation stood for over 50 years is due to begin in the first week of December 2009. We will use a healthy variety of oak, ash, rowan, Scots pine, wych elm, birch, wild cherry, hazel, alder and other trees grown only from Aberdeenshire seeds, with the cost being met from the proceeds of the sale of the larch. We have approached the Scottish Wildlife Trust to organise the planting and we hope to involve members of the community in some way, as it is their woodland."
Meanwhile volunteers continue to help with ongoing maintenance in partnership with Aberdeenshire Council and the Scottish Wildlife Trust. Jonny responded to concerns raised recently about the amount of thinning activity going on in the woodland. He said: "The work includes the thinning and removal of small beech trees, large beech branches, dangerous over-hanging branches and fallen wood blocking foot-paths. This work is time-consuming but very valuable for keeping the woodland safe for walkers, rich in variety of wildlife and enjoyable for all the folk who spend time here. I have asked two volunteers, George Harris and Brian Geddes, to help me get through this huge long-term work so they will often be seen in the woods cutting and removing wood."
He added: "Anyone with the time and energy to volunteer for some of the ongoing planting or cutting works, or who sees something they think shouldn't be going on, can call me on my mobile number 07908 598449 or Aberdeenshire Council Landscape Services on 01261 813390."



ACTIVITIES
St Marnans Sports Club
Weekly Activities Timetable 2009 - 2010
(During School Term)
Day

Times

Activity

Ages

Fee

Coaches

Monday

6.15 - 7pm

Fun Session/Games

4-5yrs

£1.00

TBC

7 - 8 pm

Football (Boys)

P1,2,3 Boys

£1.50

B Forrest / S Riddoch

8 - 9 pm

Basketball

P7 - S4

£2.00

N Davidson / J Skyner

Tuesday

6 - 7 pm

Gymnastics (mixed)

P1,2,3

£1.50

N Davidson / L Wood

7 - 8 pm

Gymnastics (mixed)

P4 - 7

£1.50

N Davidson / L Wood

****

6.30 - 8 pm

Football (Boys)

P

4 - 7

£1.50

A Inglis / L Inglis

****

8 - 9 pm

Football Tennis

P7 - S4

£2.00

A Inglis / L Inglis

Wednesday

6 - 7.30 pm

Badminton
P7 - S4

£2.00

W Kean / S Inglis

7.30 - 9 pm

Badminton
Adults

£2.00

W Kean / S Inglis

Thursday

6 - 7 pm

Football (Girls)

P1,2,3 Girls

£1.50

M Allan / A Allan

7-8 pm

Football (Girls)

P4 - 7 Girls

£1.50

N Murray / D Henderson
All Activities run during school term and are held in the gym hall at
Aberchirder Primary School except that marked **** which will be held at McRobert Park Floodlit area.
Please note a completed Parental Consent Form and Club membership fee of £5.00
(for insurance purposes) must be completed and forwarded asap.

To find out what is on in Aberchirder, click here to open in a new window.



WEBSITE - SPREADING THE WORD

One of our regular website visitors, who lives in Strasbourg, sent in this picture of her car displaying one of our window clings. Agathe has friends in Aberchirder and she has visited the area several times.

These clings, measuring 350mm x 50mm, are non-sticky and can be placed inside car windows or any other glazing.

Please order them to promote our area.

Available from Linda Farquhar, Tel 01466 780512
or
contact us at info@foggieloan.co.uk

Donation of £1 each Welcomed


ADVERTISEMENT

"Good with Food"

The following Special Offers are available at your local Aberchirder Co-op Store
from 21 October - 10 November (whilst stocks last)


Golden Wonder Variety 25pk Crisps
£2.00
Burtons Jammie Dodgers 150g
49p
Mars Limited Edition 4pk Dark
£1.00

Cadburys Dairy Milk 140g
£1.00 (varieties as stocked)
McVities Victoria Tin 800g
£5.00
Kenco Rappor Coffee 100g
Buy 1 get 1 Free - £2.32
~ ~ ~ Lots more offers in-store ~ ~ ~

Copyright © 2002 – ADCA Aberchirder, North East Scotland.