Introduction

From the time the Allies allowed Adolf Hitler to occupy the Rhineland unopposed in 1936, it became increasingly likely that he would embark on a policy of taking back the land lost by Germany at the Treaty of Versailles. By 1938 it also looked likely that Neville Chamberlain's policy of appeasement would not stop Hitler and indeed, after his invasion of Poland in September 1939, Britain declared war on Germany. The Second World War, which would last until 1945, had begun and was to involve the whole civilian population as well as the military.

This article is not in any way an attempt at a complete account of how Aberchirder was affected by World War Two. It is simply a collection of some aspects, based on reminiscences given by Charlie Anderson, Jack Stewart and others, together with information taken from school logs and the minutes of the Town Council, the Press & Journal, Banffshire Journal and various websites.

We are sure there are plenty more stories to be told – so please pass them on!

A section on the military experiences of local people is also needed, but we have not so far obtained any reminiscences and few of those involved survive. However we include at the end of this account, pictures and details of the war memorials at New Marnoch Church, Old Marnoch Church and Culvie School.


Neville Chamberlain

Air Raid Precautions

In 1937 the Government had arranged for Air Raid Patrols in the event of war and a year later as war looked increasingly likely Prime Minister Neville Chamberlain ordered that ARP volunteers should be mobilised. In large towns and cities shelters were provided – Anderson shelters for people's private gardens, and larger concrete shelters in gardens of tenement, flatted properties and parks. In country areas there was less danger of mass bombing.
Charlie Anderson remembers the air raid precautions Aberchirder:

In Aberchirder there was a concrete lookout post on Cleanhill which still exists. It was used by the RAF Observer Corps, the Home Guard [see Part 2 of this article] and mainly the ARP whose members, Jack Stewart recalls, included Neil Wilson (minister of New Marnoch Church, Bob Wilson the Registrar and Leslie Macrae, the school janitor. The ARP was also responsible for filling sandbags, enforcing the blackout and fire-fighting.

Over the years local people have told of Indian soldiers being seen on Cleanhill. They were probably the group who were based at a camp near Knock Distillery - where they performed horse displays as entertainment – carrying out night exercises in the Cleanhill woods.

The siren to warn of air raids was initially on the chimney of the police station and operated by the local police constable. Later it was moved to the old fire station - now the Council shed in School Lane - but it seldom went off because planes didn't appear within range.


Cleanhill Lookout
| | |
| --- | --- |
| Former Police Station | Former Fire Station |

Example of Bicycle Lamp

There were two air raid shelters (not underground) at the JS School – one in the boys' playground, one in the girls'.

To conform with the blackout, bicycles had special lamps, and posties had lamps that clipped onto their jackets. Houses had blackout curtains and most had blackout frames made by local joiners, which had to be put up and taken down. It is important to remember most houses didn't have electric light, just paraffin lamps, so there was no bright light to black out.
Gas masks were issued before war broke out, and all children had to carry them to school – if not, they were sent home to get them. They were fitted at the house and checked at school. They were carried every day 'till the middle of the war, around 1943, when the threat of air raids was obviously much reduced.

On 29 August 1939 the Banffshire Journal report for Marnoch stated that
"busy scenes were witnessed at all the parochial schools on Sunday [27th] when during the afternoon and evening, distribution of respirators took place. Reports show that the public attended in goodly numbers."


Typical Gas Mask
The log books kept by school head teachers give a few glimpses of air raid precautions in action:
In 1940, school opening was delayed from 30 August to 1 October to allow school windows to be fitted with wire netting as protection against glass splinters, and at Culvie School, Room 1 and the cloakroom were selected as refuge rooms in the event of air raids.
Sirens sounded air raid warnings on three occasions in February and once in March 1941, when the Marnoch pupils went into the shelter. Further air raid warnings were recorded in December 1942, March and May 1943.
Gas mask drill was being carried out daily at the Episcopal School in September 1939. Checking and repairing of the masks seems to have been undertaken by PC Stephen once a year until 1943.
The Town Council does not seem to have played much part in air raid precautions, which were organised by central government. The only references in the Council minutes are:
August 1940 – Council to provide each household with one pail of sand for fire fighting in an air raid.
June 1941 – Council agreed to arrange ten parties for fire fighting, consisting of five or six persons, for all districts of the burgh. An inventory of equipment was drawn up and a meeting held with the [air raid] warden.
December 1942 – Burgh workman Mr Michie was instructed to paint white lines on kerbs and "cable poles" to help pedestrians during the blackout.
Aircraft Recognition Training

Bob Munro inherited from his grandfather Duncan Munro, a set of training materials produced by the Air Ministry in January 1941 and used by members of the Home Guard and ARP. The materials consist of sheets showing silhouettes of allied and enemy aircraft which members would have to memorise along with four packs of cards used to test recognition. A few examples are shown below.






The Night A Bomber Came To Aberchirder
When the Second World War in Aberchirder is a topic of conversation, one story that often crops up is of the day a bomb fell near the village.
The facts are rather different, as an article by David Morgan in the Press & Journal of 13 August 1974 revealed.
Early one September morning in 1941, the noise of a plane crashing in the corner of the field beside the Bronchal Well had local people rushing to the scene, but they were soon moved away to a distance by members of the Home Guard and ARP. The plane was a British one from No.5 Bomber Group, stationed at Scampton in Lincolnshire. It had flown to Kinloss from where a raid was mounted on the battleship Tirpitz in the Baltic. Having dropped its load of mines on the target the aircraft was returning home, flat out at 125 mph, but while crossing the coast near Peterhead its fuel ran out. As a result, the port engine stopped and the pilot trimmed the Hampden to fly on its remaining engine, but this soon stopped as well, putting the plane into a spin from 2000 feet.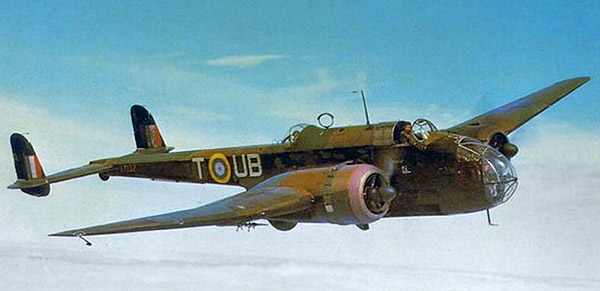 RAF Handley-Page Hampden (Medium) Bomber
Photo copyright www.military-aircraft.org.uk

Hugh Leslie Sanderson, the navigator, returned from Australia in 1974 to visit the scene of the crash and recalled how lucky the crew of four – pilot, navigator, gunner and bomb aimer – were as the plane descended quite slowly before creating a scene of devastation just 100 feet from the village.

Mr Sanderson, the only casualty, suffered multiple arm fractures, a fractured spine and a foot injury. When he came to he was treated initially by Jimmy Milne from Marnoch, who was bearing whisky, and then by other local people, before being taken to Aberdeen Royal Infirmary for expert medical treatment which allowed him eventually to return to his squadron.

During his visit to Aberchirder, Mr Sanderson met Mary Harris, then of 33 Main Street, and together they revisited the site of the crash. Mrs Harris presented him with a ring made from part of the shattered Perspex canopy of the aircraft, by Italian prisoners of war at Netherdale House.
(They would take a small piece of perspex, bore a hole in it with a red-hot poker, laboriously rub down all round the hole, then polish it with something like Brasso to give it a shine.)


Site of the plane crash


Another souvenir of the event which survives in Aberchirder today is a blouse belonging to Jessie Barron, who made it from parachute material rescued from the wreck.


Liz Ironside modelling the 'parachute' blouse


Mr Sanderson (navigator) and Mary Harris


(Photo courtesy Bodie's of Banff)

When The Earth Shook In Aberchirder

David S Hay contributed a copy of an article from the Northern Scot Christmas Number for 1981 which tells the strange story of how the effects of the Clydebank Blitz were felt – literally – in Aberchirder.

His father Alex Hay ('Bussie') was involved in driving a survivor of the first of three nights of the Clydebank Blitz, with a few remaining belongings, to her sister's at Pluscarden. On the following night - 15 March - he was visiting Aberchirder with his fiancée [see Transport/Schools] when the air raid sirens went off. They felt tremors under their feet and his fiancée explained that exactly the same tremors had occurred two nights before on the first night of the Clydebank Blitz.

An aircraft observer confirmed at the time that tremors had been felt at the observation post on Cleanhill.

It seems that some geological feature caused the vibrations made by exploding bombs and land mines to be conducted from the Clyde to Aberchirder.
Home Activities Businesses/Services Community Virtual Museum Gift Shop Site Map Contact Us Guest Book Foggie News Links
Copyright © 2002 – ADCA Aberchirder, North East Scotland.