The Home Guard

Soon after the beginning of World War Two in September 1939, most men who could fight, volunteered to join the forces and those that were left were either too young, too old, or in reserved occupations - jobs vital to the war effort.

On 14 May 1940, when an invasion seemed likely, the Government broadcast a message asking for volunteers aged between 17 and 65, who were able to fire a rifle or shotgun, to join the Local Defence Volunteers (LDVs). By the end of June nearly one and a half million men had been recruited and after the fall of France in the same month, thousands of LDVs were deployed along the British coast. In August of the same year, Churchill changed the name of the LDV to the more inspiring Home Guard.

In the early days, only one in ten men was armed with a rifle (from the First World War). The public were invited to give their shotguns and pistols to the Home Guard and within a few months over 20,000 weapons were handed in. However there were still not enough guns to go around and the men carried pickaxes, crowbars, coshes, spears and dummy rifles whilst on duty. Uniforms began arriving in the autumn of 1940. Some got khaki serge battledress whereas others had to wear armbands.



Typical Home Guard Captain
or Zone Commander

The men were instructed on how to make Molotov cocktails that could be used against German tanks during the expected invasion and also trained in sabotage and the use of high explosives.

The invasion never came, however, and the main role of the Home Guard was capturing German airmen whose planes had been shot down over Britain. They also guarded munitions factories and aerodromes, organised roadblocks, checked people's identity cards and helped generally with civil defence.

The Home Guard was stood down in December 1944 and disbanded on 31 December 1945.
The Aberchirder Home Guard
Jack Stewart joined the Local Defence Volunteers or Home Guard at the age of 17. The unit was run by an ex-Sgt Major, Bill Fordyce, and met twice a week in the West Hall. Activities included square bashing, body building, various sports and "Dad's Army" manoeuvres in the woods on Cleanhill.
The members lived in Aberchirder and the surrounding rural areas and were 'key workers' who were exempt from joining up. They included:
John Coull and his son Harry – joiner and undertaker
Jim Fraser – cycle agent
David Godsman – blacksmith and farrier
J & C Grant – builders who employed many
William Grant – solicitor
William McKay & Sons – engineers, motor mechanics, and mobile threshing mills
David MacLennan – motor mechanic, car hire and filling station
Bob Stevenson & his son Waldie – blacksmith and hearse duties.
Other exempt occupations were road maintenance, farm workers and builders.
People below or above call-up age also joined.
This photograph would have been taken when the Aberchirder unit was being inspected by the three officers in the middle of the front row.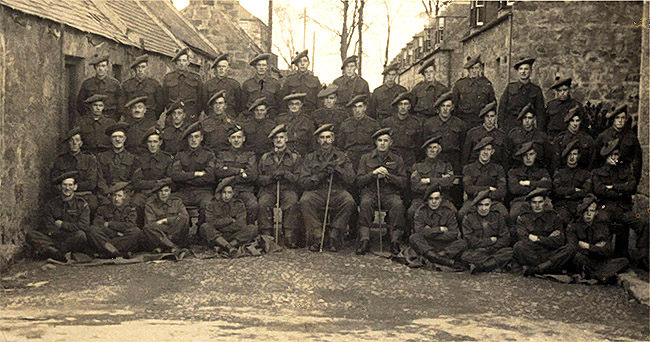 (Photo courtesy of Nancy McKidd)

Names identified are:
Back (l to r): X; Sandy Wilson (Littlefield, late church beadle); X; John Morrison (Mains of Corskie? Clunie?); X; Jimmy Thomson (Peterden); Sandy Inglis (Aberchirder); X; Eric Wilson (son of Cody Wilson, baker); John Stephen (Wester Corskie); J Steel (Barbank); X.
2nd back (l to r): John Grant (Knockorth); X; A Morrison, 'Springies' (Spring Garden); X; Jimmy Sievwright (Cranna Bridge Croft); John Auchinachie (Merchant, Aberchirder); X; Gordon (Gallowhill)?; X; G Mitchell (Cranna); X; David Duncan (Aberchirder, brother of Margaret Duncan); Willie Duguid (Bellman's Croft, Ord, cousin of the Cranna Duguids); X.
3rd back (l to r): J (Dodie?) Bremner (Cornhill, worked at Auchinderran); Charles Sandison (butcher, Aberchirder); Harold Geddes (Aberchirder); Geordie Stephen (Mains of Auchinderran); X; Three visiting officers?; Alex Watt (Castlebrae); Bill Andrew (Aberchirder); X; X; X.
Front (l to r): X; Ian Leslie; X; X; Gordon Raffan (Forglen, worked with John Fraser, cycle shop); X; X; James Legge (Finnygaud).
Auxiliary Units

In July 1940, Churchill set up the Special Operations Executive (SOE) to conduct warfare in Europe by organising espionage and sabotage behind enemy lines. In its early days SOE also served as the core of the Auxiliary Units, a British resistance movement which would act in case of a German invasion.

These top-secret Auxiliary Units of six to eight carefully selected men operated all over Britain – estimated at about 3500 men in all. The units were especially active here in the North East, which is why the area is blessed with the remains of several secret bunkers and bases. Patrol leaders were often schoolmasters, while the bulk of recruits were farmers or farm workers, who had the necessary detailed knowledge of their local area.

Although members of local Home Guard platoons found their way into the Auxiliary Units there was not really much contact at any level, although some very senior Home Guard officers may have known about the Auxiliary Units as some of their individuals with the necessary qualities were being 'poached'.

The Intelligence Officer for the North East of Scotland / Aberdeenshire was Capt. Reginald Gordon-Lennox, who was from the Scots Guards and based at Blairmore House at Glass near Huntly,

Pictured right:
Military personnel at Blairmore House 1942
(possibly Capt Gordon-Lennox in the car)


(Photo courtesy of Bob Munro)
Local Auxiliary Units

Five months after joining the Home Guard, Jack Stewart was approached by Sgt Major Bill Fordyce and invited to join the Auxiliary Unit. He would get to know the facts later but it would save him from being called up to the regular forces quite so early. He agreed, but only found out what he was letting himself in for after he had signed the Official Secrets Act.

In fact, in the event of a Nazi invasion, he was committed to going into hiding behind the enemy lines to carry out sabotage and it was expected his group would last no longer than a fortnight at most.

Once the Nazis had control of Norway, parachute landings along the Moray Firth coast were thought likely. Most local Auxiliary Units were planned for being about seven miles from the coast, if the site was suitable and near enough to strategic points which could slow up the enemy after invasion.


1940s Hand Grenade

The purpose of the groups was to blow up enemy convoys at night. The members were trained by the Army to use hand grenades (throwing from lying on back position), revolvers and rifles, Molotov cocktails, sticky bombs and how to set booby traps. They examined bridges to find the weakest points and practised using explosives on trees and big stones.

The local groups were based at Culvie, Bridge of Marnoch and Forglen.
Local Auxiliary Unit members
What made Jack Stewart an ideal recruit was that he worked in his father's bakery and undertook van deliveries, so he could drive and knew the area well. In Jack's time. other members of the Culvie group were Sgt Major Bill Fordyce (Newton of Culvie, farmer), Gilbert Brodie (Culvie Valley, joiner), George Cruickshank (Over Culvie, farmer's son), Bill Drummond (Finnygaud Croft, farm worker), George Legge (Craigieview, farm worker) and George McDonald (Windyedge, farmer).
Although Jack was a member of the Culvie Bunker, he was also a driver for 2nd Lt. Bonar Budge who was Head Teacher of Marnoch School (1927-1943) and leader of the Marnoch and Forglen groups. Jack visited the other bunkers with Lt Budge and met some of the members. Of the Marnoch group Jack recalls - Sgt W Main, Corporal Leslie Stephen (Euchrie, farmer), Robert Wilson (Turtory, farmer), Robert Cumming (Craighead, farmer), Andrew Sinclair (schoolmaster at Easterfield) and the gravedigger, Duncan Munro.
The only Forglen members Jack recalls were a gamekeeper and a maintenance joiner.
Jack's connection with the Auxiliary Unit ended when he was called up to the RAF in August 1942. John Morrison was sure the Culvie group continued thereafter and recalls hearing loud explosions coming from their Sunday practices when big boulders were used as targets. Activities would have ended in 1944 when the organisation was wound up nationally.

High explosives group of the Home Guard at Aswanley 1942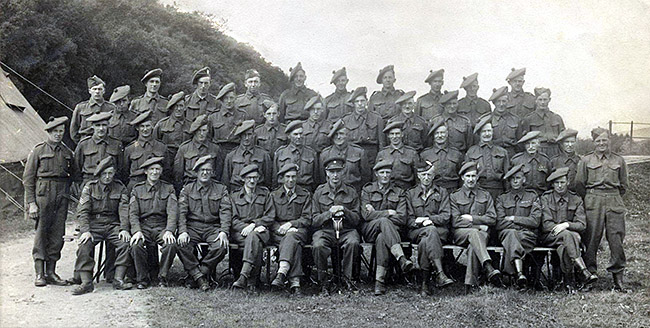 (Photo courtesy of Bob Munro)
Occasional weekend camps were organised at Aswanley beside Blairmore, Members of the Culvie and Marnoch units who have been identified are:
Back row from left: Jack Stewart (5th), George McDonald, Windyedge (7th).
3rd row from left: James Legge, Finnygaud (1st); George Stephen, Auchinderran (4th); probably Bill Fordyce, Newton of Culvie (7th); Robert Wilson, Turtory (8th); Duncan Munro, Marnoch (far right).
Front row from left: 2nd Lt A H Bonar Budge, Marnoch (4th); Capt Gordon-Lennox (6th); Capt Cochrane (7th); Corp Leslie Stephen, Euchrie (10th).
Members of auxiliary units at Blairmore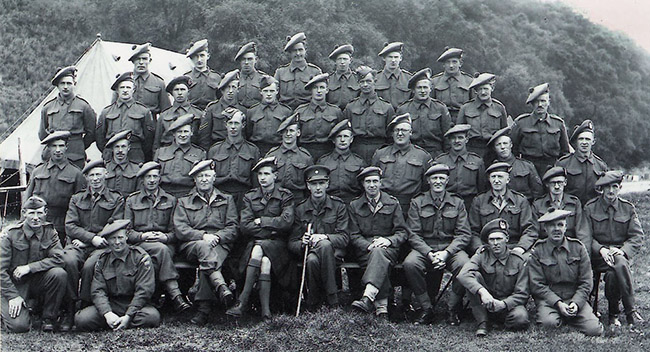 (Photo courtesy of Alison Smith)
The group includes senior officers Capt Cochrane, Capt Gordon-Lennox and Lt George Fisher (5th, 6th and 8th respectively in the 2nd front row).
However the only member of the local units who has been identified is Lt A H Bonar Budge (2nd from right in 2nd front row).
Duncan Munro, Marnoch gravedigger

Bob Munro kindly provided photographs featuring his grandfather Duncan, who was the gravedigger at Marnoch Cemetery. He and his family lived in the mort-house in the south-east corner of the graveyard – built in 1822, originally to keep corpses safe from body-snatchers! - the last family to do so.

Robert recalls that his grandfather never spoke about the war as he was embarrassed at not having been on active service like all his pals, despite the fact that he had in fact volunteered to put his life in peril but was sworn to secrecy.



Duncan Munro

The Munro family at Marnoch Mort-house 9 September 1951


From left: Albert, Kathleen, Duncan (Robert's grandfather) holding Sheena, Brian (front), Robbie (Robert's father), Kate (Robert's grandmother), Erik.





Marnoch Mort-house 2011





As an aside, Duncan Munro had a connection with a famous wartime incident in the North-east involving the 'Beautiful Spy'. He was a brother-in-law of P C Bob Grieve, who in 1942 took part in the arrest of three German spies at Portgordon railway station and later was the star witness at their trial at the Old Bailey.

For details see:

http://rgu-sim.rgu.ac.uk/history/German%20Spies.htm

http://rgu-sim.rgu.ac.uk/history/spies.htm

http://www.geocaching.com/seek/cache_details.aspx?guid=43f3d0d2-5676-43f1-bf39-43801cf37431&log=y&decrypt=

Right: Bob Grieve with family at Portgordon 1942


Underground bunkers

These were made by Royal Engineers, so discreetly that some of the farmers on whose land they were built didn't know of their existence. The Culvie bunker was near the top of Culvie Hill, the one at Marnoch was built just below the graveyard and the Forglen one in the Mountblairy woods just before the river bank.

Right: A possible site for the Marnoch bunker,
between the cemetery wall and the river.
The Culvie bunker

At Culvie, the bunker was built into the heather-covered hillside, on land above Newton of Culvie belonging to Culvie Estate and farmed by Bill Fordyce. (Map ref 582 546.) John Morrison – who was a member of the Cornhill Home Guard - recalls it was constructed in a hollow where an old road metal quarry had probably been.

The Auxiliary Unit uniform consisted of black rubber boots and leggings, balaclavas and blackened faces. In case of discovery, the men could escape along a ditch, which was also convenient for toilet needs. About 380 yards north of the bunker (map ref 581 550) on Park Estate land farmed by Bremner of Thorax, was a tree-house style lookout about 5 feet square, situated on the hillside with a clear view over the Greendykes road to Portsoy – seven miles distant - and the coast. The lookout was connected to the bunker by two wires which allowed the watchers to transmit by Morse code to the men in the bunker. Usually there were two lookouts and five inside the bunker.

| | |
| --- | --- |
| View up the Newton of Culvie road towards Culvie Hill. | Looking towards Newton of Culvie and the site of the bunker. |
| Looking from the plantation towards the site of the bunker. | The site of the bunker and the ditch to which it was connected. |
| View to the south and site of the bunker. | View north to the plantation where the lookout was sited. |
| View from the lookout towards Portsoy. | View from the lookout towards Boyndie. |
Bunker construction

The bunker entrance was a box of heather with a rabbit burrow type hole giving access to the keyhole. A step ladder led down to the bunker which had brick built walls lined with white painted 9-inch boards to make it light, and was high enough to stand up in. Lil Anderson remembers her father Gilbert Brodie lined the bunker with corrugated iron which after the war was left lying in the field after the bunker was dismantled.

There were two sets of bunks made with timber and netting wire, a water container and a primus stove for which the Sgt Major supplied the paraffin. Food had to be pinched – eggs, snare rabbits, etc – and sometimes Jack brought pies and various other perishable goods from the bakery.

Jack Stewart confirmed the Culvie bunker was certainly not as neat and tidy as this recreation shown on the right.



A mock-up showing what an Auxiliary Unit's
secret bunker would have looked like.
----------------------------------------
Acknowledgements & Thanks
This account of the local Home Guard and Auxiliary Units is based on reminiscences provided by a number of people who were involved, directly or indirectly, in the activities: Jack Stewart, John Morrison, Lil Anderson, Gladys Prosser, Charlie Anderson and Bingo Bremner.
Special thanks go to Jack, aged 88, for his long reminiscence and to the late John, a relative youngster of 85 who, on a day of foul weather, led our local historian Bob Peden across dubby parks and barbed wire fences to show him the location of the Culvie secret bunker. Thanks to Helen Lyon for providing contacts, information and advice.
Thanks also to Bob Munro for information and materials relating to his grandfather and the Marnoch area, and to others for their photographic submissions.
Finally we are grateful for the research carried out by Bob Peden, the information and comments from David Blair, Scotland's leading expert on Auxiliary Units, and Alison Smith, whose excellent website includes an account of their activities in the Deskford area and much more – see http://www.genegenie-scotland.co.uk/The_Banffshire_Guerrillas.pdf
Return to Home Front 1 - 2 - 3
Home Activities Businesses/Services Community Virtual Museum Gift Shop Site Map Contact Us Guest Book Foggie News Links
Copyright © 2002 – ADCA Aberchirder, North East Scotland.