Aberchirder
or as it's better known
Foggieloan

The Burgh of Aberchirder & Parish of Marnoch, North-East Scotland - Past & Present.
A
berchirder & District Community Association set up this site to document the history and culture of the village
and the surrounding area. Its purpose is also to promote the ideal location from which to access the numerous and varied places of interest within the north-east corner of Scotland. This website contains over 500 pages of historical facts, information and images covering many aspects of life and times in and around Aberchirder. A visit to our Virtual Museum will reveal an ever expanding hoard of subject matter from days gone by.
Quick links to Virtual Museum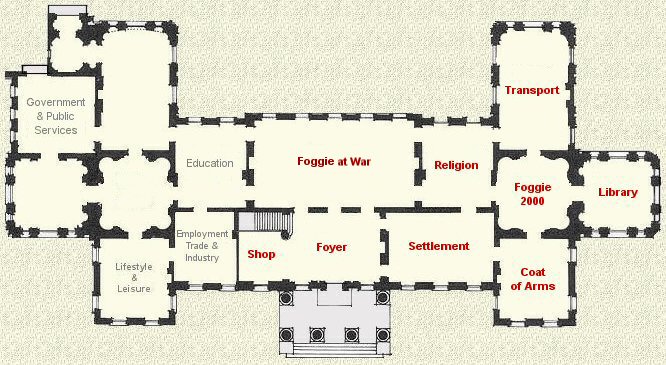 Where is Foggieloan?
Foggieloan, or to give it its official title, Aberchirder, is situated in North-East Scotland and is well served by roads leading from the Moray Firth coastal route and the surrounding area of Aberdeenshire. It lies at the centre of the Parish of Marnoch, on the A97 road between Huntly and Banff and is most easily reached by car, although it is also served by buses and the railway station at Huntly. The city of Aberdeen is about an hour's drive away and Inverness, the capital of the Highlands, can also be reached in little over an hour. Click here to see a location map.
Satellite Navigation Users - The postcode
AB54 7TA will take you to the town centre.
Why Foggieloan?
Aberchirder was originally known as Foggieloan and was named such after a nearby ferm toun. To find out more about this and its origin, visit the brief history section of our Virtual Museum. So where did the name come from? There are various theories; the most likely is that there is a stretch of moorland north of where the ferm toun existed (and, now, north of the village) which was named Foggieloan Moss from two Gaelic words foidh (peat moss) and lon (meadow), so Foggieloan means peaty or boggy meadow.
Local Weather

Are You Trying to Trace Your Ancestors?

Many people have contacted us via this web site seeking details of their family history. Unfortunately we have neither the resources nor the experience to deal with such requests. However, we have put together a series of links to web sites where research can be carried out on people from the Aberchirder area and North-East Scotland generally. Please visit our section on Genealogy - click here

.
Routes To Your North East Roots

The following website has been set up by Aberdeen and Aberdeenshire Councils to assist those seeking to trace their roots in North East Scotland. The site acts as a directory to organisations and institutions holding original or secondary sources of information useful in the quest for ancestors.
Accommodation in Aberchirder




Those who get involved in researching their family history like to visit the places from which their ancestors originated. Should you wish to visit the Aberchirder area you will be made very welcome. Accommodation can be found using our Businesses & Services page.

Navigate our site using the following links:

Picture Gallery
Due to public demand, a link to the Picture Gallery housed in the Virtual Museum has been re-instated on this page.
Click the film strip below for access.



Sign up to our Foggieloan Mailing List to receive details of updates to this web site
Click Her

e to Register
To tell a friend about this web site
Click Here

Copyright © 2002 – ADCA Aberchirder, North East Scotland.
Site Updated 19 June 2014