All over Britain, metal was being requisitioned for the war effort and although not all of it was useful or used, it was a good propaganda exercise, as the British public needed to feel that they were contributing to the war effort. The requisitioning of railings gave rise to some disagreements between the Town Council and central authority.
The Council minutes record that in April 1942, by Government demand, railings were to be taken down at the Parish Church Hall, Ledo in Main Street (Mr McKay), The Bungalow [179 North Street] (Mr Geddes), Causewayend (Mr Davidson) and the West Hall.
In March 1943, the Council protested to the Ministry of Works in Aberdeen against its proposal to requisition railings from the new council houses on South Street, west of the Commercial Hotel. As the houses were on a main road, it was said their removal would be dangerous and the railings were also needed to protect the gardens from cattle and sheep being moved! The same argument was used about The Cottage (next to Rose Innes) on South Street. Following a meeting between Provost Auchinachie and Mr Rollo of the Ministry, it was agreed all railings on walls under 2 feet high should remain.
While collecting metal to melt down to make aircraft and munitions was mainly a propaganda exercise, a more useful approach was to raise money for the Government through the National Savings organisation, originally set up in 1916.
From 1940 the National War Savings Committee organised campaigns aimed at raising money for military materials including warships, weapons and planes. In 1943 the Banffshire Savings Committee took part in a Wings For Victory week, and these extracts from the Banffshire Journal show how successful its campaign was:
"Banffshire War Savings – Target £200,000:
A meeting of Banffshire War Saving Committee was held at Cullen, Sheriff Walker presiding. The Wings For Victory Week for the county was fixed for April 10th to 17th. The target aimed at is two Sunderland flying boats at £50,000 each and twenty Spitfires at £5,000 each, a total of £200,000. Banffshire's target in the last War Weapons Week was £100,000, while the amount raised was £368,000."
(Banffshire Journal, 19 January 1943)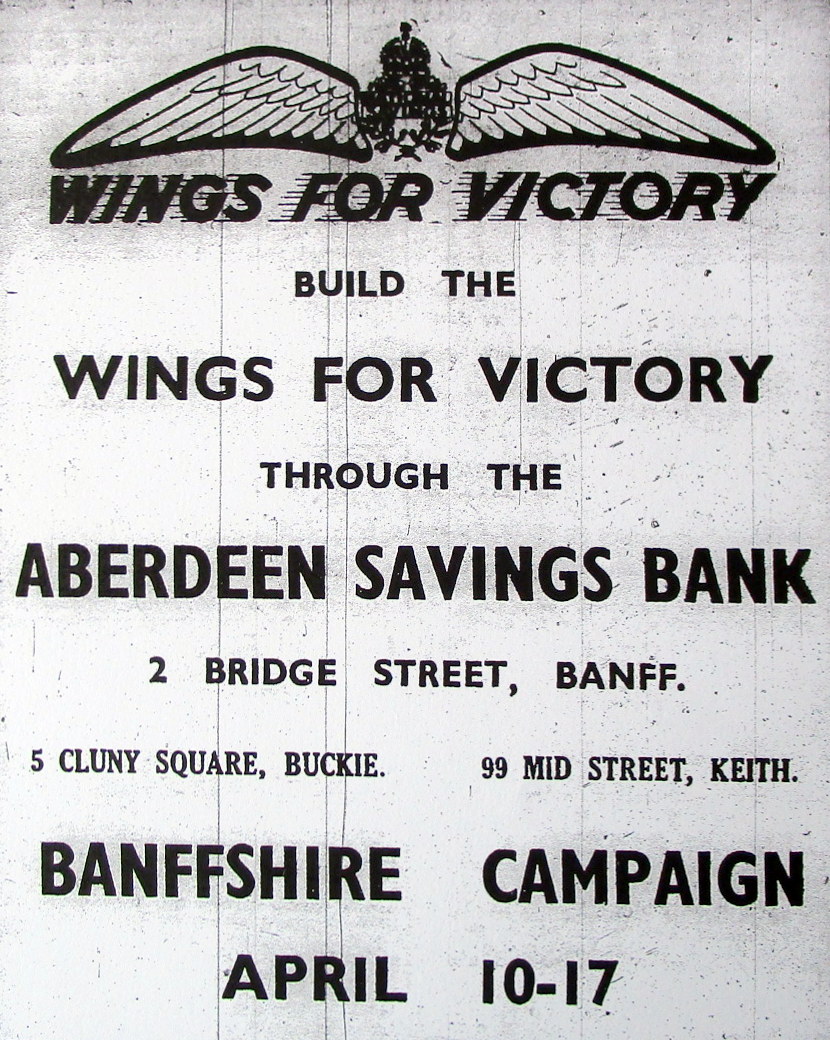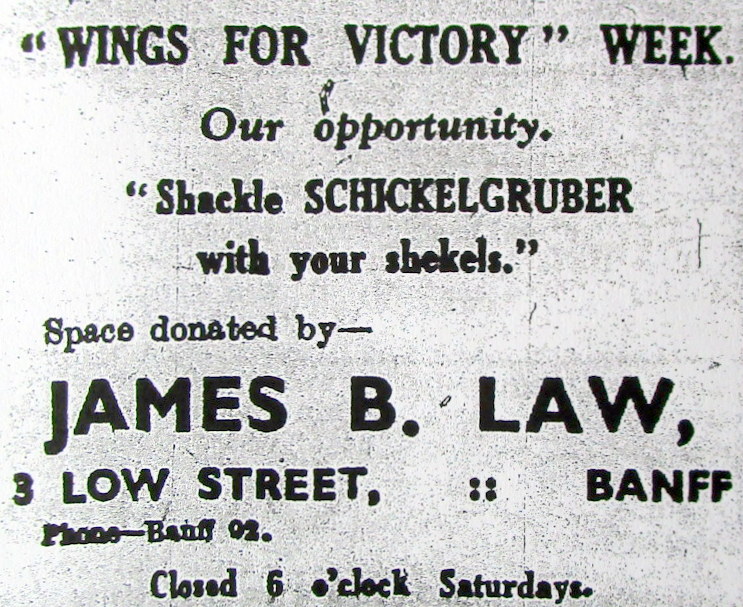 Marnoch – Savings Week:
At a largely attended meeting held under the auspices of the Savings Committee, Provost Auchinachie presided and full discussion took place on arrangements for publicity during Wings For Victory Week. It was arranged to promote an entertainment to provide funds for the local schools in their slogan competition."
(Banffshire Journal, 13 April 1943)
"Marnoch – School Savings:
Aberchirder Junior School in the Wings For Victory campaign reached the splendid total of £705, which was much in excess of the figure of last year. With every encouragement from their teachers the scholars made a strong effort to reach a high figure and deserve great credit. The children were granted a half-holiday as a reward for their fine effort."
(Banffshire Journal, 20 April 1943)
"Marnoch – Wings For Victory:
In a slogans competition for the district schools the results were-
Aberchirder Junior, 10 to 12 years – 1. Agnes Anderson "Savings Stamps are little things. But let's save more for victory wings." 2. Elizabeth Davidson "Let your money Fly." 12 to 15 – 1. Olwen Johnston "Lend to send bombs to end Hitler's tyranny." 2. Alfred Neish "Spit Fire At Hitler."
Episcopal School, 10 to 12 – 1. John Taylor "Planes we need, that's quite plain. So save with all your might and main."
Blacklaw 10 to 12 – 1. Maisie Watt "Make your money fly on wings for victory." 2. R Barron "Save your shillings to scout the skies." 3. J B Watson "Let your pennies take wings."
Netherdale 10 to 12 – 1. F Matthew "Speed wings for victory."
Marnoch 10 to 12 – Equal, George Dryden "Save your money to save your nation." and Bella Thomson (acrostic) "Send Planes In Thousands – Force Invincible, Rommel's End."
Culvie 10 to 12 – Equal, Margaret Simpson "Buy savings stamps and let the Air Force lick them." and Jean Dawson "Victory has the sign of V, R.A.F needs L.S.D."
(Banffshire Journal, 20 April 1943)
"Marnoch – Savings Week:
On Wednesday a concert in support of Savings Week filled the Memorial Hall to overflowing, and a large audience gave an enthusiastic reception to the artistes, all of whom were local…The programme consisted of solos, cross-talks, piano accordion, sketch, violin solos, impressions and musical items. The Boys' Brigade band gave a selection, while the achievements of the keep-fit class were much admired; a gymnastic display under Mr Trotter was a most popular item…At the interval Bailie Gerard intimated he winners of the school slogans competition and…from the proceeds of the entertainment the scholars' prizes were met.
On Friday a whist drive and dance was also held when a goodly company spent a happy couple of hours… At the dance Beattie's band supplied music."
(Banffshire Journal, 20 April 1943)
"Banffshire's £382,226:
In achieving a grand total of £382,226 in its Wings For Victory war savings effort, and thus brilliantly surpassing even its own previous fine records in the similar efforts of Warship Week and Weapons Week, Banffshire has set a standard for the Northeast area.
…By raising £182,226 more [than the target] the county will be able to meet the cost of four Sunderlands and twice-twenty Spitfires.
..A large proportion of the county's total was due to the splendid response of 'small' savers, investing in Savings Certificates, Savings Bonds and Defence Bond.
…The closing figures were:
Keith £63,941; Buckie (including Findochty) £62,468; Portsoy £56,716; Banff £47,309; Macduff £31,197; Cullen £19,210; Dufftown and Cabrach £13,364; Gardenstown and East Gamrie £11,578; Aberlour and Craigellachie £10,020; Aberchirder £8,691; Glenlivet £8,219; Portknockie £7,634; Whitehills £5,873; Tomintoul £3,506."
(Banffshire Journal, 27 April 1943)
This plaque was presented to the local savings committee and remained in the back hall of the Marnoch Memorial Hall until it was demolished in 2003.
The relief depicts a nude winged man with clouds in the background which indicate he is flying. He holds a sword in his right hand and is fighting a three-headed serpent. At the top of the relief is the motto of the Royal Air Force, 'PER ARDUA AD ASTRA', which translates as 'Through difficult things, to the stars'. The image refers to the Book of Revelations, representing the archangel Michael as the leader of the celestial armies fighting the rebel angels led by Lucifer, represented by the three headed serpent. Biblically St. Michael is also the guardian of the souls of Man and in both his aspects is an appropriate choice to represent the Air Force as a force of both strength and good, whilst the German enemy is clearly cast as the forces of evil.
After the War, the Chief Librarian at the Air Ministry compiled commemorative log books for some of the aircraft that were built with 'Wings for Victory' money and sent them out to the participating organisations.
The images below are from the Log for Sunderland W4018 which made its first patrol around the Scottish and Norwegian coasts on 19 August 1943.
(Pictures courtesy of Aberdeenshire Archives.)