The Heyday Of Horse Drawn Transport
In the second half of the 19th Century all road transport was horse drawn.  The wealthier people had their own carriages – the forerunners of private cars – while others could travel on stagecoaches – the forerunners of motor buses and referred to as omnibuses or buses for short.
The Websters ran the Mill of Auchintoul at the end of the 19th Century. Here Alexander (aged 13) is in charge of the pony and trap carrying the younger children of the family. They are (l to r): Elizabeth, Agnes Urquhart, George and Helen. Agnes was later to become the grandmother of James Hay. Alexander Webster took part in the Battle of the Somme and later became a GP in Fraserburgh.
(Picture courtesy of James Hay)
The stagecoach from Banff to Huntly carried the mails and its first stop was at Babbie McRobert's Inn at 16 South Street, which has long since been a private house. The horses were changed here and the stables still survived until around 2010 in the back garden of the property.
Towards the end of the 19th Century, coach services from Aberchirder to Huntly, Turriff and Cornhill were provided by William McMillan who ran his operation from 128 Main Street.
In 1980 Alan Pirie was carrying out some renovation work at the neighbouring smiddy when he discovered a bottle. It contained a letter written in 1892 by William McMillan, as well as a poster advertising the stagecoach timetable.
The photograph shows a horse bus driven by William McMillan himself, at the Mill of Auchintoul stop.  The carpenter's shop (now mostly demolished) was owned by Sandy Auld who is standing by the ladder at the rear of the bus, while his son is standing on the anvil and leaning on the wall (far right).  Note the other forms of transport for people and goods.  Photo supplied by James Hay, whose mother Annie was the grand-daughter of Charles Webster, who owned Mill of Auchintoul.
As transport developed, blacksmiths were never short of business and could turn their hands to repairing new as well as old vehicles.
This postcard shows a group at Stevenson's smiddy beside the Back Spoot well in School Lane, around 1907. Jimmy Milne (shoeing the horse) an unidentified lady (presumably Mrs Stevenson) and child, Bob Stevenson and Dod Hosie.
(Picture courtesy of Evelyn Chalmers)
Carriers provided a goods service between towns, while local deliveries of things such as milk and bakeries were made by horse and cart, or by hand cart.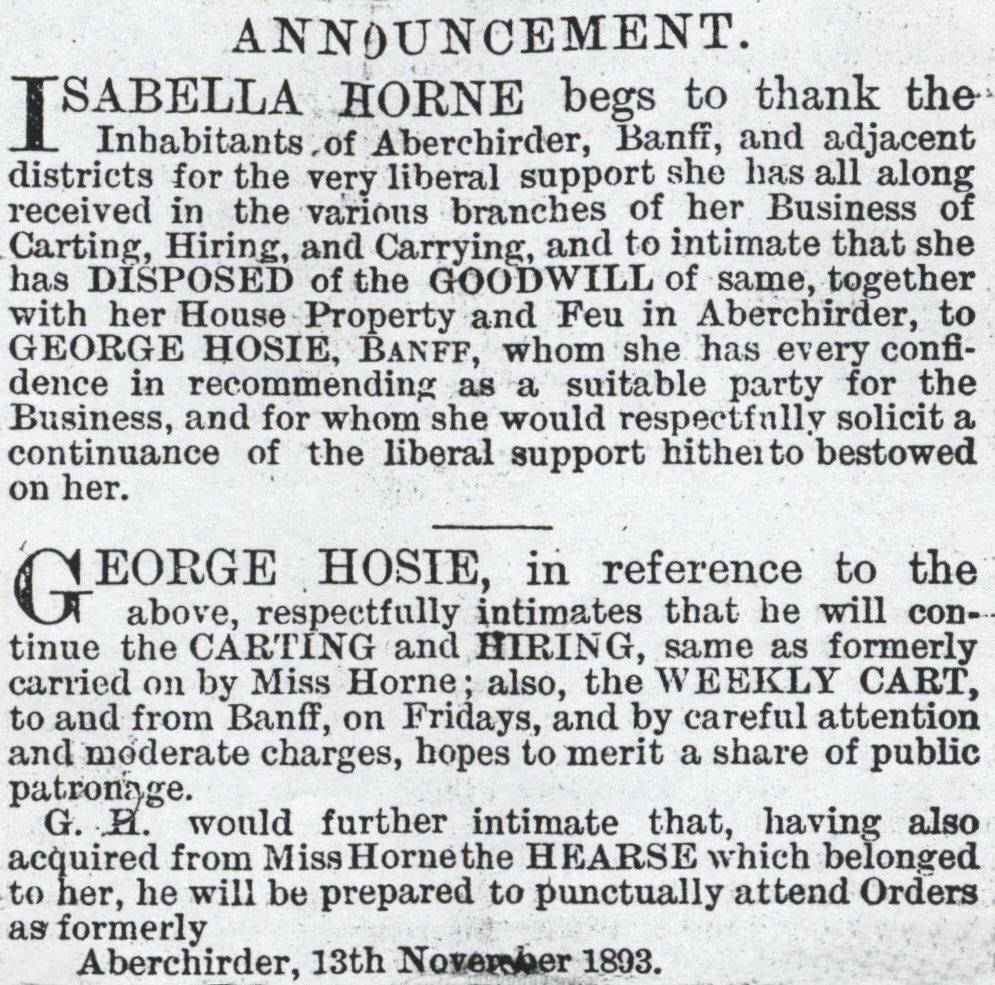 Announcement in the Aberdeen Herald and Weekly Free Press that George Hosie of Banff had taken over the carting and hiring service, and hearse, previously run by Isabella Horne at 88 Main Street. George was the grandfather of well-known Foggie character Hector Hosie.
(Picture courtesy of Hector Hosie)
The photographs below show:
– Morrison the Baker's horse-drawn delivery cart outside the shop at 3 The Square, around 1910. Postcard by Gibson of Gateshead-on-Tyne.
(Picture courtesy of Evelyn Chalmers)
– A handcart in Main Street around 1910. Postcard by Gibson of Gateshead-on-Tyne.
(Picture courtesy of Evelyn Chalmers)
– A delivery man (possibly Barclay Stewart) with Stewart the Baker's handcart outside the Commercial Hotel in South Street around 1950.
(Picture courtesy of Mary McKenzie)
Right: The Bremner handcart in 2017.
(Picture courtesy of Willie Bremner)
Left: Some of the Bremner family pictured in 1990 with the refurbished company handcart from around the 1920s. Seated is Robert (Bingo) Bremner with grand-daughter Holly Garrett and from left: Willie Bremner, George McIntosh, Robert Bremner and Steven Bremner (no relation).
(Picture courtesy of Mary McKenzie)
It is interesting to note that there were what might be termed horse-drawn boy racers in the 19th Century!
A typical case in 1887 saw a Portsoy labourer fined 10 shillings after pleading guilty to "in the village of Aberchirder and on the public road between Aberchirder and Cornhill, having driven a horse yoked to a spring cart in a furious and reckless manner to the danger of the passengers."