What made Jack Stewart an ideal recruit was that he worked in his father's bakery and undertook van deliveries, so he could drive and knew the area well. In Jack's time. other members of the Culvie group were Sgt Major Bill Fordyce (Newton of Culvie, farmer), Gilbert Brodie (Culvie Valley, joiner), George Cruickshank (Over Culvie, farmer's son), Bill Drummond (Finnygaud Croft, farm worker), George Legge (Craigieview, farm worker) and George McDonald (Windyedge, farmer).
Although Jack was a member of the Culvie Bunker, he was also a driver for 2nd Lt. Bonar Budge who was Head Teacher of Marnoch School (1927-1943) and leader of the Marnoch and Forglen groups. Jack visited the other bunkers with Lt Budge and met some of the members. Of the Marnoch group Jack recalled – Sgt W Main, Corporal Leslie Stephen (Euchrie, farmer), Robert Wilson (Turtory, farmer), Robert Cumming (Craighead, farmer), Andrew Sinclair (schoolmaster at Easterfield) and the gravedigger, Duncan Munro.
The only Forglen members Jack recalled were a gamekeeper and a maintenance joiner.
Jack's connection with the Auxiliary Unit ended when he was called up to the RAF in August 1942. John Morrison was sure the Culvie group continued thereafter and recalls hearing loud explosions coming from their Sunday practices when big boulders were used as targets. Activities would have ended in 1944 when the organisation was wound up nationally.
The photo below shows the high explosives group of the Home Guard at Aswanley in 1942 (Photo courtesy of Robert Munro)
Occasional weekend camps were organised at Aswanley beside Blairmore, Members of the Culvie and Marnoch units who have been identified are:
Back row from left: Jack Stewart (5th), George McDonald, Windyedge (7th).
3rd row from left: James Legge, Finnygaud (1st); George Stephen, Auchinderran (4th); probably Bill Fordyce, Newton of Culvie (7th); Robert Wilson, Turtory (8th); Duncan Munro, Marnoch (far right).
Front row from left: 2nd Lt A H Bonar Budge, Marnoch (4th); Capt Gordon-Lennox (6th); Capt Cochrane (7th); Corp Leslie Stephen, Euchrie (10th).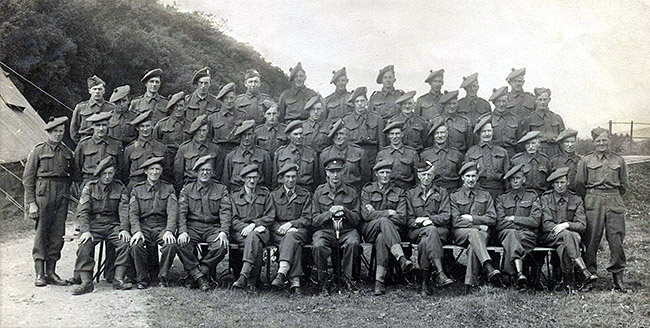 The photo below shows members of auxiliary units at Blairmore (Photo courtesy of Alison Smith)
The group includes senior officers Capt Cochrane, Capt Gordon-Lennox and Lt George Fisher (5th, 6th and 8th respectively in the 2nd front row).
However the only member of the local units who has been identified is Lt A H Bonar Budge (2nd from right in 2nd front row).