In 1965 the Town Council, with Rev Edward Walker as a leading proponent, began its transformation of the area to the west and north of Causewayend Quarry, which would eventually amount to 98 houses being built. At the same time local contractor L A Anderson proposed a private housing development to the east of the Quarry. This won support from the Town Council, anxious to attract professional people to what it saw as "an increasingly working-class community", and the first phase of eighteen houses began in 1968.
In January of that year the Town Council issued a building warrant for the first three of what by the following year were fourteen houses L A Anderson was to build in a new road running east from the Quarry road parallel to the east end of North Street. The land was at that time outside the Burgh boundary but was included in the extension granted by the Sheriff in April 1970. By 1975 the first phase of what had been named Causewayend was complete.
Following the construction of a sewage works beside the Arkland Burn in, opened in October 1978, the Causewayend houses had their septic tanks bypassed.
In the early 1980s a number of one-off houses were added, but the death of Leslie Anderson in a car crash in 1987 was followed by the dismantling of his business. Following a gap of three years development resumed in 1990 as Neil Murray completed Causewayend Crescent and in the following quarter century Causewayend Place, Cranna View and Murray Place had completed the encirclement of the Quarry.
Private and Council Housing In Aberchirder, 2011:
Just as the Corskie project of the mid-1960s to 1981 had greatly increased the number of Council houses in Aberchirder, the Causewayend project greatly increased that of privately owned houses.
Aberdeenshire Council records show that at the time of the 2011 Census, ownership of housing in Aberchirder was: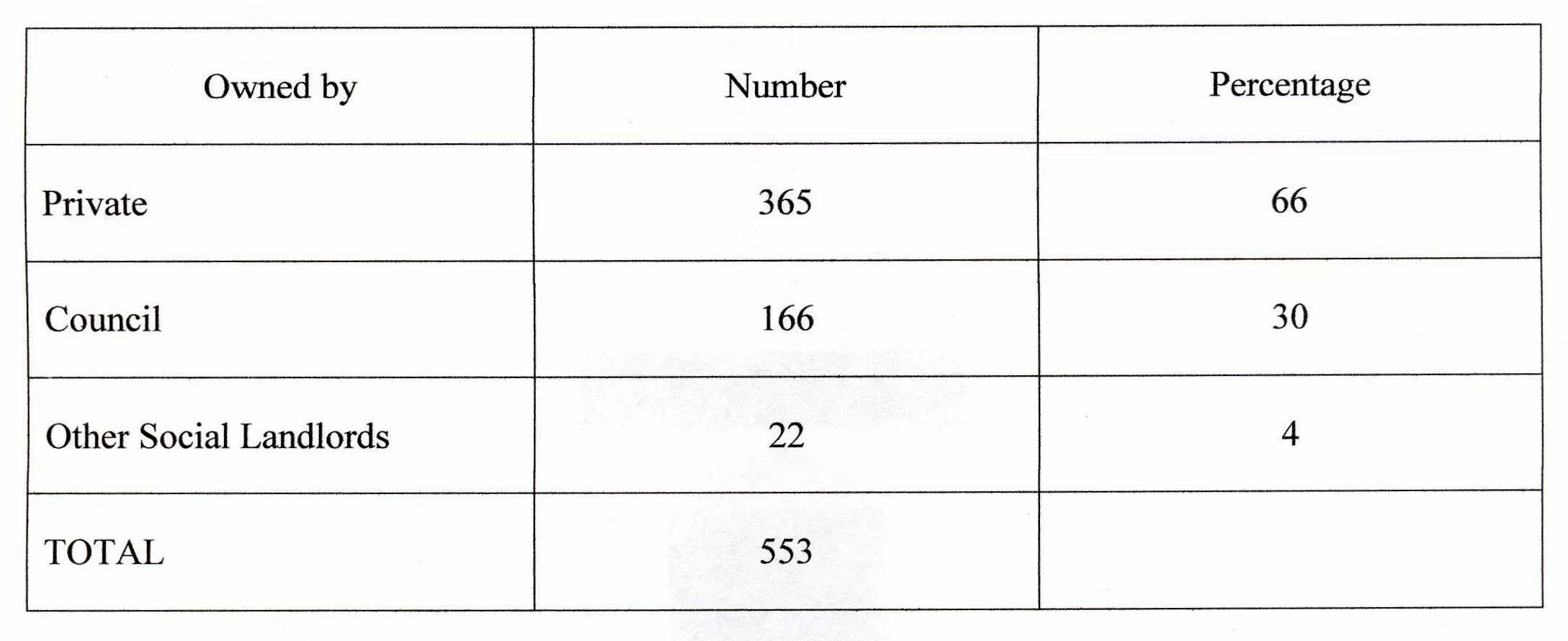 These figures do not include houses built by Neil Murray between 2011 and 2017.
The Housing Act 1980 gave tenants of Council houses the right to buy the property (this right was abolished from 2016 by the Scottish Parliament). The effect of right to buy in Aberchirder was that by 2011 83 Council houses (one-third of the stock) had been bought, and these are included in the figures for Private in the table. The properties owned by social landlords are at 23 Main Street (Langstane Housing) and Bronchal Place (Hanover Housing Association).
Stages In Aberchirder Housing 1799-2017:
As the map below shows, the area of housing in the village in 2017 had doubled since 1904, although the population was virtually the same, illustrating how housing conditions had vastly improved.
Aberchirder Housing 1799-2017
Looking ahead from 2018:
A Community Action Plan drawn up for the Community Association in 2015, based on issues raised by the public, had as a top priority action to deal with derelict sites and rundown properties. The Association used this to persuade Aberdeenshire Council to grant planning permission for the conversion of a former shop at 56 Main Street into a house:
And currently the Association is supporting efforts by the owner of the former MacLennans depot in North Street to get planning permission to build flats on the site. This would complement the conversion of the neighbouring former Dorran sites into a Men's Shed and community garden